A strong digital presence is a must for today's savvy auto dealers. Ideally, it empowers you to engage with customers, increase awareness, and break through the intense and saturation that consumers face. But… if you are cynical, it's also a chance to get beat up by negative reviewers, unreasonable customers, and disgruntled employees.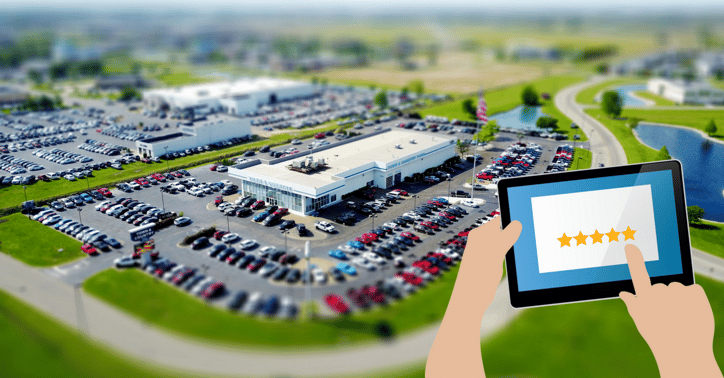 So, who's right: the idealist or the cynic? Both. It's best to be a realist when it comes to social media for car dealerships. When you have an online presence, you'll get both positive and negative input and feedback. How do you respond to reviews to drive your brand's goals forward?
A Five-Star Response Strategy
While consumers can use the internet as their own personal sandbox -- and kick sand in your face with virtual impunity -- you have to act with much more restraint. When you see a negative review:
Take a deep breath.

No one likes to read negative comments about themselves. It can be tempting to simply react and fire back a response. This is ill-advised (to say the least!). While you do want your response to be timely, give yourself time to collect your thoughts and deliver a strategic message. In other words: calm down and proceed with a clear head. This really is half the battle.
Make it personal.

Instead of taking it personally, make it personal. When you respond to a negative review, make sure to address the individual and his or her concern specifically. A blanket apology says, "Sorry, not sorry." Most people leave poor reviews because they did not have stellar experience with your brand; a canned response does nothing to allay this concern. Use the person's name and speak to their experience, using detail from the review.
Ask questions.

If you are unsure about the exact nature of the problem, ask:

What could we have done better? We're sorry for your experience; what can we do to make sure it's better next time?

If the reviewer responds, this is a good time to take the conversion to direct or private messaging. You need specificity, as well, so you can speak to your salespeople and staff. If these are not one-off complaints, this is a good opportunity for improvement.
If it's good, make it better.

Sometimes people have

good t

hings to say. But you can make their experiences

great

with just a bit of effort. For example, if a service department customer was disappointed because your team didn't wash their windshield, top off their fluids, or give the interior a quick vacuum, offer them a freebie next time they come in.
You don't want to set a precedent by rewarding negative reviews, but there is a definite time and place to convert lukewarm customers into loyal ones. Given the amount of trust customers place in peer reviews, this is an investment which will yield strong returns in the social media world.
Know when to clap back.

Sometimes, customers are unreasonable in their expectations or they are looking for a discount, free service, or other compensation. You are not in the business of "buying" good reviews. If someone drops a post that is blatantly untrue, counter calmly -- and with facts. Stand up for your brand and your employees. You can do so respectfully.
This is perhaps the toughest part of responding to reviews. But you want to convey the message to other customers that you care about honesty and integrity, that you care about your people.
When it comes to
social media for car dealerships,
the key is to be proactive -- when a customer does leave a negative review, you are not coming from a reactionary place. An experienced
automotive marketing agency
can help you navigate these tricky waters. Social media can be an exceptionally powerful tool; wield it wisely.