While plastic surgery practices rely heavily on referrals from other healthcare professionals and patients, many people self-refer. To do this, they turn to the renowned medical expert: Google. Given the competitive nature of this field, you need to tap into this massive source of traffic. Thus, it is critical that your online presence is both highly visible and authoritative. Plastic surgery marketing techniques emphasizing strategic SEO is the key.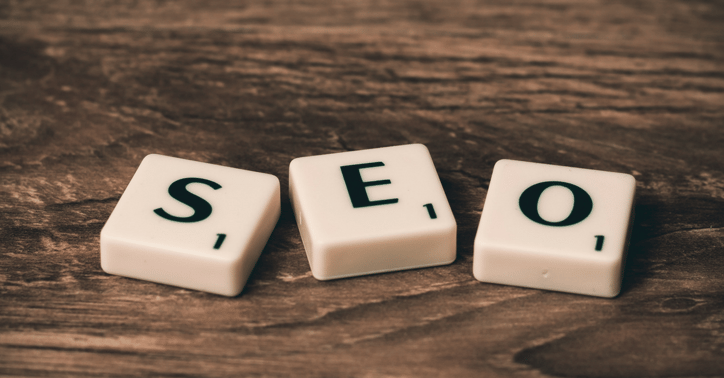 The Plastic Surgeon's Digital Scalpel
Plastic surgery SEO is the virtual version of word-of-mouth: it promotes your practice and establishes your team as the best in the business. When effectively executed, SEO empowers you to achieve a number of practice-building goals, including:
Increasing online visibility.

Generating high quality website traffic.

Building brand awareness, credibility, and authority.

Creating a multi-faceted online presence that goes beyond your website to include social media, professional directories, etc.

Establishing and/or improving your reputation locally and even nationally.
Plastic Surgery: SEO Techniques For Your Practice
How do you accomplish these goals, reach more patients, and increase the profitability of your practice? These local SEO techniques can get you started:
Think about your keywords. These are the words or phrases that potential patients are most likely to enter. For example: breast augmentation, liposuction, nose reshaping, BOTOX, etc. Start by listing the services that you offer. Use Google's Keyword Planner tool to come up with related keywords as well.

Developed a targeted keyword list. Use Keyword Planner to conduct a volume search for your chosen keywords. Here's what you'll see for breast augmentation.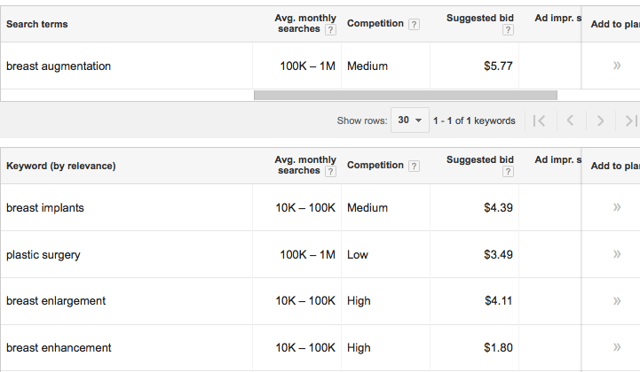 Notice that there are between 100,000 and 1,000,000 searches for this term each month, and competition is "High." What does this mean? That a lot of people are searching for breast augmentation — but a lot of other practices are offering this service. The chances of yours being seen for this search are not as favorable as you'd like.
The goal of local SEO is to put the odds in your favor. How? Target a specific area in the Keyword Planner tool. For example, in the "Target: Area" section on the left-side menu, enter Florida. Better.
Now, instead of generic terms, make sure keywords are targeted and specific. For example, instead of breast augmentation, opt for breast augmentation in South Florida, best plastic surgeons Florida, etc.
Use Keywords with Buyer Intent
For effective local SEO, use keywords that relate to buyer intent (e.g. breast implants South Beach, breast augmentation in Florida). These are geared towards people who have made their decision to have a procedure and are looking for someone to perform it. Utilizing these keywords will yield quick conversions because these individuals are nearing the end of their sales journey — they're ready to convert into a "customer" or patient.
Make sure buyer intent-related terms feature prominently on your website (especially your homepage, landing pages, and headers) and create specific service pages around them.
Move Middle-of-the-Funnel Folks Along with Keywords and Content
Many people are just beginning or in the middle of their sales journey. At this point, they are searching for information.To capture their attention, use keywords with a research intent. Examples: should I get breast implants, benefits of breast augmentation, breast augmentation recovery, etc.
These fit perfectly in content (e.g. blogs, articles, whitepapers, videos, etc.), which is a key component of any SEO campaign. Not only does content help you attain a higher rank in the search engine results pages, it establishes your practices as an authority in plastic surgery.
Optimize Your Listings
Use your specific, targeted keywords wherever you have an online presence. For example, if you have a Twitter or Facebook profile, make sure you use these terms in your description, about section, and naturally in your posts (hashtags are critical, especially on Twitter).
Also, set up and keyword-optimize listings in directories, such as the American Society of Plastic Surgeons, PerfectYourself, HealthGrades.com, American Board of Cosmetic Surgery, American College of Surgeons, and others. Don't forget about general sites like YellowPages, Yelp, Google My Business, and your local Chamber of Commerce.
Gather Reviews
Reviews are plastic surgery SEO gold. Ask patients to leave feedback online (anonymously is fine, if they prefer) after a procedure. They can discuss your care and professionalism, as well as their own results if they choose. This serves a number of purposes: it boost your authority with potential patients, convinces Google you're a legitimate business, and helps you achieve higher rankings.
Get started by sending an email to patient that contains a link to your Google My Business profile (this delivers the most "bang for the buck" in terms of search results and visibility). Ask them kindly to write a review for you. Remember to thank them when they do!
This is just the tip of the SEO iceberg! There are many more steps you can take; for help planning, launching, and monitoring your campaign, contact a firm that specializes in plastic surgery marketing. Differentiate your practice with sound SEO strategy.