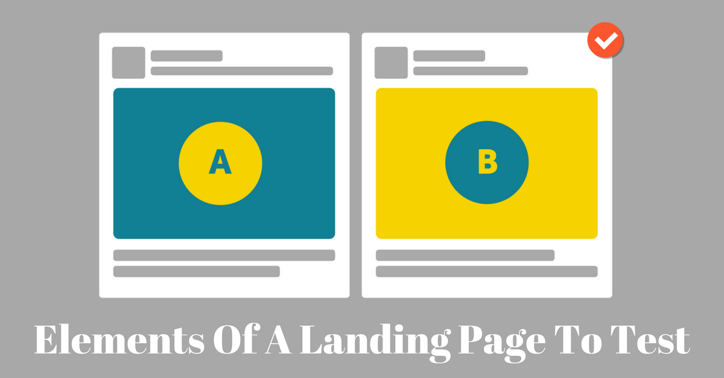 Are your Landing pages converting a desirable percentage of the traffic they are receiving? Realistically the answer is probably no, as marketers we should always strive for a better user experience. According to Search Engine Land, the average conversion rate of a landing page is 2.35% yet the top 25% are converting closer to 5.31%. Of course every industry has a slightly different curve to their conversion rates, but the overall goal is to increase that percentage.
So how can you increase these conversion rates through A/B tests on a landing page? You could go into funnels, offers or audience intent, but for now lets focus on the top elements to test on your page and why these elements may lead to an increase in conversions.
Conversion Point – Whether your Landing page exists for purchasing, downloading or filling out lead generation forms, this is generally the main focus point of your page. If individuals aren't converting through this point there are a few options you have for testing. First understand what a user may be coming to your Landing page for and where in the sales funnel they may be. Providing gated content such as an educational download may be more appealing to visitors than a generic contact form. Other updates to conversions points may be changing the locations of your call to action (CTA) button, or testing different colors, shapes and sizes.
Content – Content on your Landing pages can include everything from images and copy to your meta files, page titles and alt tags. This content can be easily moved around and edited on your page to work a visitor through a funnel. One of the biggest mistakes that our agency runs into regarding content is a hard sell right within the fist paragraph of a page. Make sure that you are providing value to the visitor and progressing them to a positioning statement to make a case of why it would be beneficial for them the complete a call to action.
Split Pages – Sometimes its beneficial to completely start from scratch and provide the user with a brand new template and page layout. In these cases, marketers can use a split test, which will present a completely separate page than the original or control page. This is a valuable option when A/B testing, but you will need to be careful to set up the page with SEO in mind. Using Robot.txt to no index this new page will be important, as search engines may not know if they should index the original or new page. For more information on this subject, check out this guide to split testing mistakes.
These testing elements of Landing pages are once again just a piece of the options available to test. Once you have determined which elements to test, be sure to vet through A/B testing platforms For Landing pages. These platforms are specifically build for the testing process and can be tied back in with integration in Google analytics making it seamless for goal and events changes with the test.
For more information on A/B testing and conversion funnel auditing, contact THAT Agency today.