Inbound marketing is the act of advertising for your site through many different traffic channels and directives, such as video, blogs and podcasts, whitepapers, newsletters, search engine optimization, social media marketing, and other content marketing services. The idea is to attract potential customers through different phases of the purchase cycle. Hubspot is an online tool that many digital marketers use for content creation and distribution for multi-channel outlets throughout lifestyle marketing spheres. It's a great tool to assist your off-site SEO efforts.
After determining the proper search engine optimization strategy needed for your company, it's important to use both on-site and off-site SEO to accomplish your inbound marketing efforts. These are the two main subsects of SEO digital marketing. You must ensure you're putting forth both of these major efforts in order to get the full effect of your website's search engine optimization.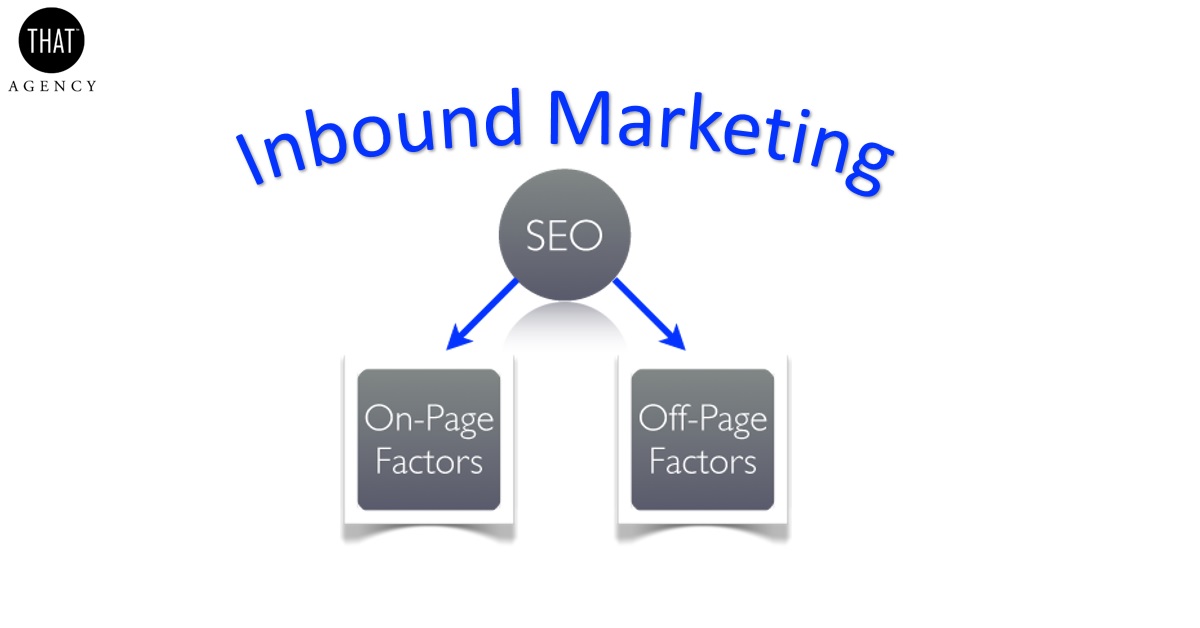 On-Site SEO for Inbound Marketing

On-site search engine optimization consists of all of optimizations you can complete within your website, to help with SERP rankings. There are many different attributes that go into on-site SEO and can be as intricate as local microdata. However, the main elements we must focus on, for best practices implementation, would be: meta data, URL structure, mobile optimization, content and page speed.
Meta Data consists of Title Tags, and Meta Descriptions. Here is where you utilize your needed keywords, optimizing each respective page for both backend purposes, as well as end-user friendliness.
URL structure also uses your keywords, and puts a major focus on them by inserting them directly after the domain within the address bar. However, even more than this, the URL structure shows a well-thought out and organized structure to the website.
Mobile optimization is no longer a bonus to your website; it's a necessity! Ensuring that your website is built properly for mobile and tablet is imperative, since more than 50% of website traffic comes outside of desktop.
Content is still one of the best tools for SEO. In order for website content to be effective, you must utilize targeted keywords, as well as keep users engaged. Soon you'll see the importance of content for off-site SEO as well.
Page speed is crucial for optimal SEO performance. Now, as users have migrated from the original dial tone desktop online searches, to fast-paced mobile searches, as a society, our patience has diminished. Since search engines focus on user-friendliness: the faster the page loads, the better the rewards.
Off-Site SEO for Inbound Marketing

Off-site SEO focuses on obtaining backlinks from external sources, as a kind of a vouching process. The more links your website obtains from other sources, promoting your keywords (through linked anchor text*), the higher your website accumulates SEO authority in the eyes of the search engines. The problem that many marketers face is how they obtain these links, and what the links end up looking like. For instance, if someone is linking to your site with words like "click here" or even "<your company's brand name>", your targeted keywords wont be a part of the equation at all. However, if you are able to obtain specific keyword anchor text backlinks (*meaning your targeted keyword is what is back-linking to your site), then those keywords will be pushed as relevant features on your website.
If you would like to learn more about inbound marketing efforts, or on-site and off-site SEO strategies, please contact the experts at THAT Agency today! As a full-service digital marketing agency out of West Palm Beach, FL., THAT Agency can help your business rise to the top, with SEO services and more. Call today to get started!