Google has recently launched a new read-only Knowledge Graph Search API
While the new Knowledge Graph Search API is currently only read-only, once it's fully released, Google will discontinue the existing Freebase API. Google has been working to transfer the data from Freebase over to Wikidata since its announcement a year ago, December. Interestingly enough, Wikidata was launched and all of the data was [at least planned to be] imported by the end of March 2015, and Freebase was meant to be officially retired toward the end of June 2015. However, it still has been up and running until throughout the rest of this year, and likely for a little while into early 2016. Now that the new Knowledge Graph Search API has launched, we expect the Freebase API and Freebase Suggest Widget to finally officially retire (Google states: within 3-6 months).
The Knowledge Graph API uses "standard schema.org types and is compliant with JSON-LD specifications", according to the Google+ announcement. It's important to note that new Knowledge Graph Search API is analyzing and presenting data from Google, but it is not sending data back to Google. Therefore, it is currently only set as read-only. Unfortunately, we cannot currently submit edits to any of the data (like: mistakes within the Knowledge Graph, for example).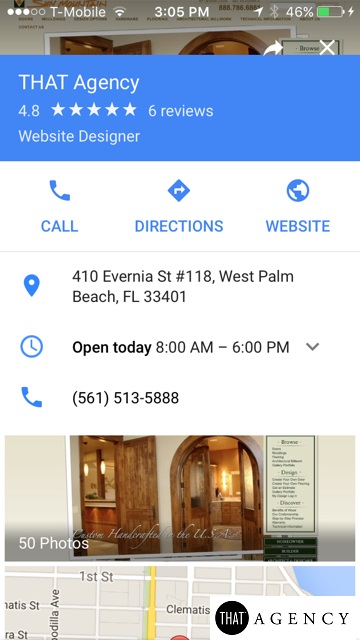 Google makes managing local business data easier for Knowledge Panel card by building out new test markups.
In addition to the launch of the new Knowledge Graph Search API, Google is also building out a new schema for providing local business data to Google. NOTE: This is still being tested by Google, so nothing is officially out and ready for full use yet. The pilot has been opened to a select group of data providers, but Google hopes to open it up to the rest of the population soon. But, basically the idea will be to be able to use schema markup throughout your whole site in order to effectively connect any/all new local business data directly to Google, in a fast and efficient manner. The launch of this will be to ultimately offer a far more real-time approach to showing the most accurate local business data on the Knowledge Panel card.
If you are have a local business and you're in need of some local search engine optimization services, look no further than THAT Agency. Located in the heart of downtown West Palm Beach, FL., THAT Agency is a go-to SEO marketing agency for clients all over the United States, and abroad. Contact us today to get started, and have a fresh start for 2016!