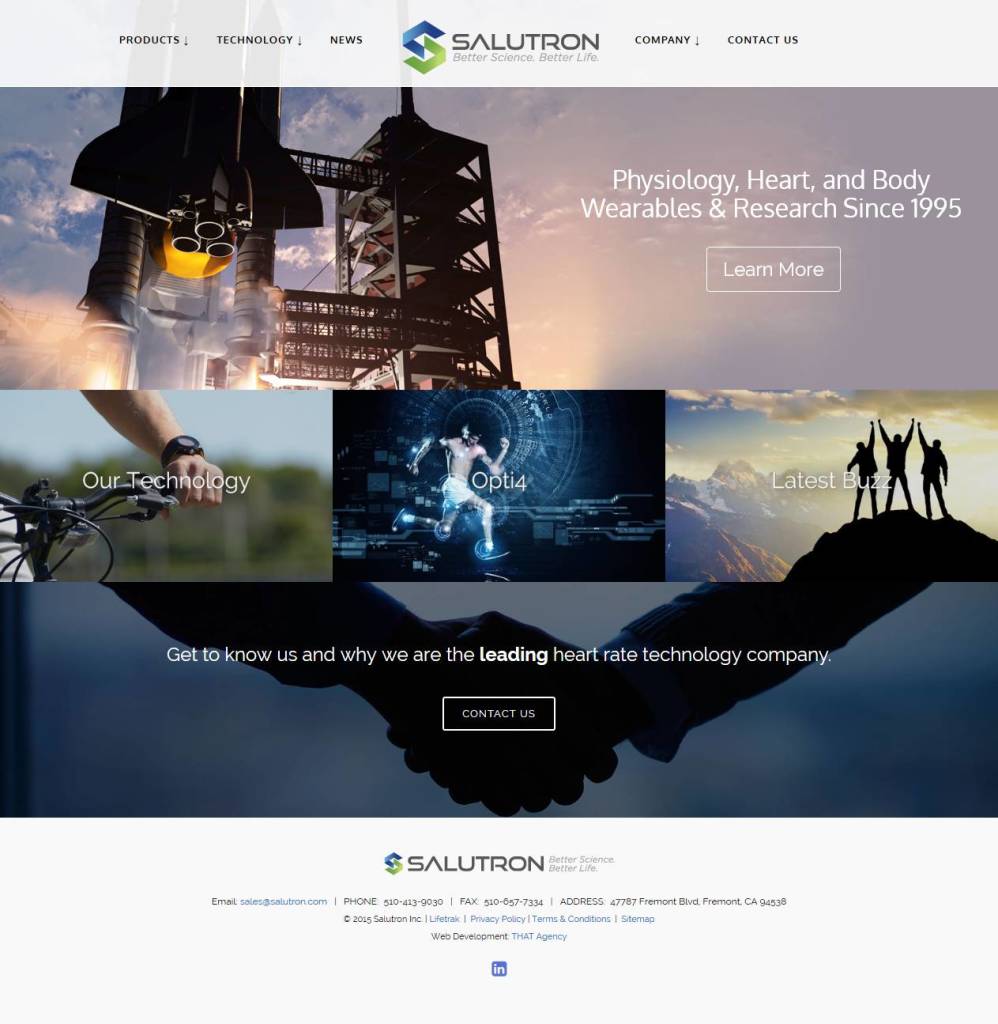 West Palm Beach, FL - After the design and development commenced on Salutron's sister website, for LifeTrakUSA (www.lifetrakusa.com), THAT Agency focused on creating a new look and feel for www.salutron.com. With so much invested in their technologies, Salutron relied on THAT Agency to accurately depict their company, and create a reflection of their capabilities.
Utilizing impressive images, THAT Agency was able to create a concept that showcases Salutron's products and technology offering. The website was created around responsive web design, which allows for the website display appropriately across all devices, from mobile to tablet to desktop.
The website was developed on the open-source PHP platform, WordPress, and was customized utilizing numerous plugins, to create a custom website feel, without having to build the website from the ground up.
To complete the project, THAT Agency incorporated their standard suite of search engine optimization onsite best practices. These services included (but are not limited to): keyword and competitor research, meta title and description optimization, 301 redirects, XML and HTML sitemaps, and much more!
About THAT Agency
THAT Agency is a full-service interactive design agency whose focus is all about their clients, including their web designs and development, search engine optimization and pay per click management and social media marketing. THAT Agency also provides business planning services, such as: specification documentation, wireframes and competitor analyses, for companies of all sizes, from start-ups and sole proprietorships to Fortune 500 corporations. For more information about all of the services or to get a quote, visit www.thatagency.com or phone 561.832.6262.
About Salutron
Salutron is a supplier of heart rate and activity monitoring solutions, utilized for health, sports & fitness, and other consumer applications. Salutron's team of engineers and scientists deliver a unique blend of consumer wearable experience, advanced physiological research expertise, and a passion for accuracy and reliability. Since 1995, Salutron's mission has been to deliver superior science in order to improve lives. Today, Salutron's technology is used in leading global brands of cardio fitness equipment, in chest straps and heart rate monitoring watches, in advanced research projects, and in cutting-edge activity tracker products. For more information about Salutron, visit www.salutron.com.