It's Time to Increase Your Local Rank Before You Lose Business
Google has recently updated their local search results pages to show only a few local results. Before the update, if your business was ranking anywhere between positions 1 through 7 locally, you'd most likely be appearing on the first page of Google's SERPs. Now, Google has chosen to show only the top 3 local results, followed by the usual organic search results. So what does this have to do with your business? Before we jump into it, check out the below summary of ranking variables and their influence on search.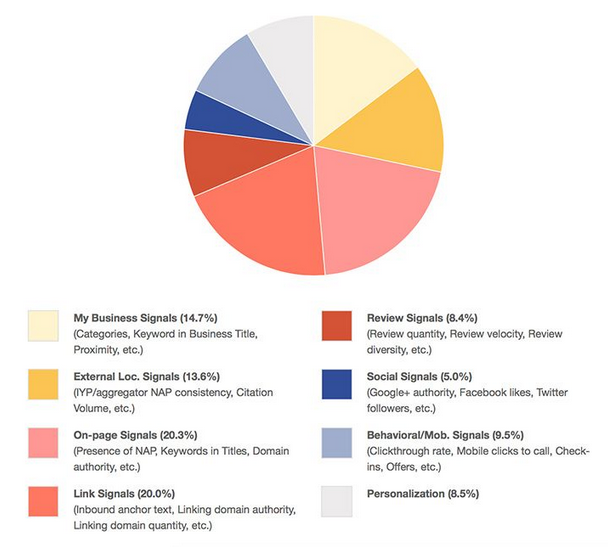 Source: Moz
If your business is currently not taking advantage of any type of SEO services, then you may see your site traffic diminish due to these changes. This is because, if your business is ranking locally in positions 4 through 7, you just lost your spot on Google's first page. This is devastating for businesses who rely heavily on traffic coming to them locally.
Let's say you're a "mom and pop" type flower shop with a very basic and un-optimized website which is ranking way down on Google's organic results, but your local business page is sitting in the #5 position in Google's local search results. Many of the customers who were finding you through your local listing on Google, will now no longer be able to find you without clicking the "More [search term]" button. However, if there are three perfectly good businesses listed above you, why would a potential customer bother looking at more options? This is where having an expert web design agency can help.
Most business owners and webmasters understand that a website doesn't magically rank higher without the help of an expert that knows search engine optimization strategy and what you need to do to get in front of potential customers online. Those business owners' and webmasters' websites are most likely sitting in those top three positions locally. So call THAT Agency and speak to our SEO experts, and see how we can help you take advantage of the top ranking positions locally and organically.