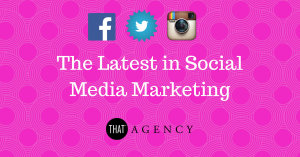 Facebook Is Trying E-Commmerce Again
Facebook has recently begun once again allowing a handful of brands sell their products directly through a new "shop" section on their pages. This comes because Facebook wants companies to update their Facebook pages with a collection of their products. The idea is that users will be able to browse and shop from these pages. To learn more, click here.
Instagram Ads Open Up To API Partners
The Instagram Ads API Partner program launched Tuesday, with launch partners including Ampush, Brand Networks, 4C, Kenshoo, Nanigans, Salesforce Marketing Cloud, SocialCode and Unified. These partners will be able to perform tasks including scheduling and publishing content to the network, monitoring audiences and sharing access to Instagram accounts across teams.
Twitter Removes the 140-Characted Limit from Direct Messages
If you've checked your newest Twitter Direct Messages, you may have noticed that they're no longer limited to 140 characters. As of right now, nothing has changed about the character limit on public tweets.
Hootsuite Integrates Instagram Scheduling
Social media marketers have been waiting for this for a very long time. Those lucky enough to be using Hootsuite can now schedule posts and manage their Instagram presence alongside the rest of their social media activities. Sprout Social, if you're reading this, please take note and follow in Hootsuite's footsteps ASAP!
What social media marketing news are you most excited about? Let us know in a comment!