YouTube may seem like a great place to host the videos for embedding to your website (and it is), but don't forget your Keyword Synergy! Make sure you utilize your keywords in the video's title and description while keeping information clear, concise and attention-grabbing.
Optimizing YouTube Video Descriptions & Best Practices
Search engine optimization does not stop when posting to YouTube. Don't forget that the description is a great platform to promote your social media and other pages or videos as well. First and foremost, make sure to add your business name, address, phone number (NAP) and email address to make it easy for the viewers to contact your business. Second, but equally as important, add links to your website, social media pages, other videos and anything else that may be of interest to the viewer. Your best bet is to add a link to your main site, social media pages, and then select one to a few interesting links to complement the video. Make sure not to bombard your description with random links! This creates the opportunity to generate more users coming to your website, hopefully leading to goal completions, leads or sales.
Optimizing Tags and Transcripts for YouTube Videos
Two things that most people don't think about as being beneficial are tags and transcripts. Having proper tags that highlight the topic of your video, in both a general and specific sense, gives Google a great sense of what your content is about. Your video's transcripts are another place in which you can utilize keywords, as these are crawled by Google for information as well. So, make sure your transcripts are correct, grammar and spelling are taken into account, and that you made sure to utilize keywords and maintain keyword synergy in your video.
Connecting Your Website to Your YouTube Channel
Lastly, make sure to add cards to your videos. To add cards to your YouTube video you will have to add an associated website to your channel. To do this, click your account logo in the upper-right corner of the page and click the "Creator Studio" button. From here, click "Channel" in the left side menu and then select "Advanced" from the submenu.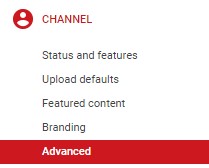 On the resulting screen you will find an "Associated Website" section which will allow you to link your website to your YouTube channel. Once you complete this, you can add cards to your videos.
Adding Cards to Your YouTube Videos
From the Creator Studio, find the video you would like to add a car to and click the "Edit" button next to it. From here, click the "Cards" tab at the top and you will be taken to a page which gives you the option to "Add Card" to your videos.

Click the "Add Card" button and you will be given several options of which type of card to add. Your options are: Associated Website, Fundraising, Merchandise, and Video or Playlist. Choose which one fits your particular needs, play around with them a bit and have fun!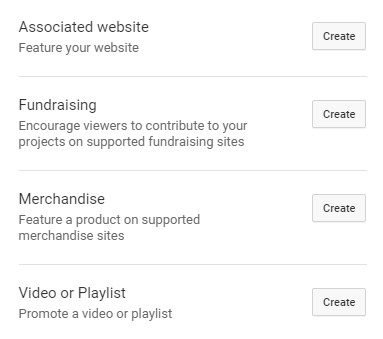 If you have any questions or would like to inquire about THAT Agency's digital marketing services, please feel free to send me an email at mmacdonald@thatagency.com.