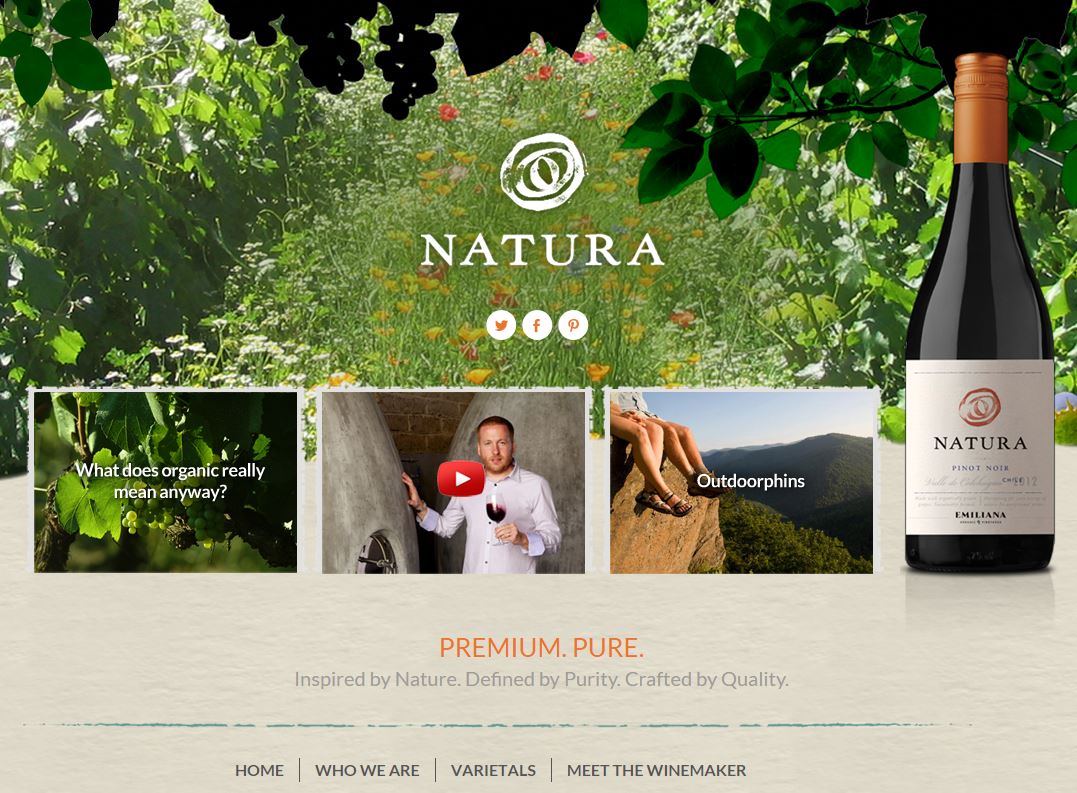 West Palm Beach, FL- Natura Wines, produced by Emiliana Organic Vineyards, the world's leading organic winery, recently hired THAT Agency to design, develop and market its new website. Seeking a design that's clean, bright, and modern, Natura Wines hired THAT Agency due to their website design services and digital marketing expertise.
THAT Agency delivered with a clean, responsive, search engine friendly website that captures the feel of the brand and appeals to Natura's target audience: engaged, aware consumers who have a love of the outdoors and an appreciation for a pure lifestyle. The website features information about each of Natura's wines, its winemaker, and a tab titled "Outdoorphins," which will feature a variety of original content related to organic wine, nature, and an active outdoor lifestyle. The Outdoorphins tab will help to recruit new users while collectively engaging Natura's current user-base.
In addition to their web design and development services, THAT Agency was tasked with developing and implementing a search engine optimization (SEO) strategy, as well as continuing to provide a social media strategy on platforms including Facebook, Twitter, Instagram, Google+ and Pinterest.
About THAT Agency
THAT Agency is one of the premier full-service, interactive web design agencies in West Palm Beach, FL., whose focus is all about their clients. In addition to their web designs and development, search engine optimization and pay per click management and social media marketing, THAT Agency also provides business planning services, such as: specification documentation, wireframes and competitor analyses, for companies of all sizes, from start-ups and sole proprietorships to Fortune 500 corporations. For more information about all of the services or to get a quote, visit www.thatagency.com or phone 561.832.6262.
About Natura Wines
Natura, imported by Banfi Vintners, is the #1 imported organic wine brand and is produced by Emiliana Organic Vineyards, the world's leading organic winery. It is a top 10 brand in the Chilean category, showing incredible momentum and the strongest growth trends amongst top players in the segment. Natura produces a range of well-balanced wines with new world style and sophistication. Certified organic by IMO, produced with 100% organically grown grapes and vegan friendly - a statement of quality and purity. For more information, visit http://www.naturawines.com