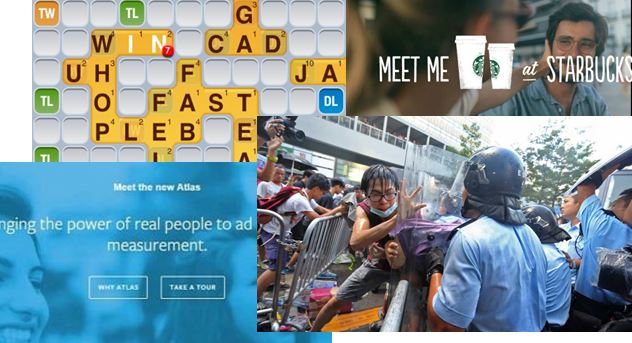 Once again, we're hooking you up with what you need to know today in the world of digital advertising:
1. Google is developing new ad formats that are designed to take over the entire screen of a smartphone or tablet.
2. Starting this week, Facebook will use data it collects from users for its new ad network, Atlas, which will serve up ads on non-Facebook sites based on what Facebook knows about you.
3. As the political protests in Hong Kong have intensified over the last few days, reports have surfaced that Instagram has been blocked in mainland China.
4. Love Words With Friends? Ad execs claim they use the game to build relationships with other executives within the ad tech community. CEOs, heads of digital sales, marketers, publishers, tech companies, you name it!
5. Starbucks launches its first brand campaign, "Meet Me At Starbucks."
6. After rumors floated around all summer, Google Panda 4.1 has finally been released.
7. Ello, the new ad-free social network, is quickly becoming a household name. Here's what you need to know about it.
8. For fun, check out these creative videos from Samsung and KLM Airlines that have gone viral.