Chances are that most of your competition is on Facebook these days, working to grab the attention of the same users as you. Here are a few tips on how to make your brand stand out in the noisy Facebook landscape:
Create Unique Visuals
It's no secret that photos receive the highest rates on engagement on Facebook. According to Kissmetrics, photos get 53% more likes, 104% more comments and 84% more click-throughs on links than text-based posts. These days I hardly ever post text without a photo (unless I'm posting a video). With percentages like that, you're crazy not to.
It's one thing to post a photo, but I like to take it to the next level and create my own visuals whenever possible. This works great when posting content such as quotes and statistics, but can be used for just about anything. I find that people are more likely to engage with an image that they are seeing for the first time, even if it's a quote they've read before.
The best part is that I can include the brand's logo, or a website link, in the image, so every time it is shared, more people see the name. A good example is this post from Plumb Talk Women- It received 13 shares, meaning that hundreds of users likely saw the post- and the link to the Plumb Talk website.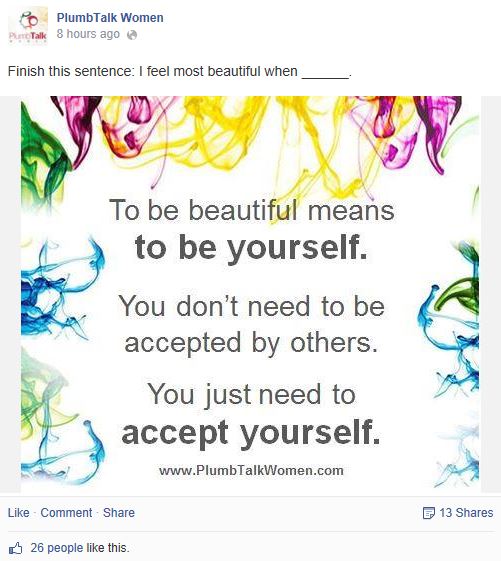 Although our brilliant web designer sits about five feet away from me in the office, I don't even need to take him away from bigger projects in order to create awesome, professional looking images; I use free tools such as Pinwords, Pinstamatic, LiveLuvCreate, QuotesCover or good old Photoshop to make what I need.
Take Advantage of Your Cover Photo
Your Facebook cover photo is the largest real estate that you have on Facebook. It's the first thing people see when they land on your page, so I recommend using the space wisely.
It's your chance to let visitors know what your brand is all about, whether you state your company's mission, show off your products, list your services, etc. Just by looking at our Facebook cover image, a visitor instantly knows which services we offer, and a bit about our approach when it comes to customers.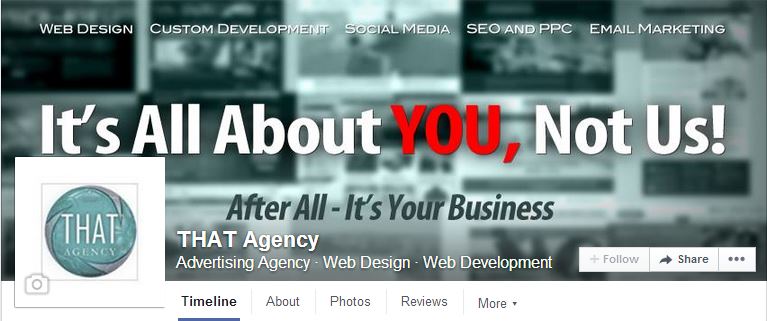 Your cover photo is also a great place to let users know about an upcoming event, a deal you're offering, or a contest you want to promote.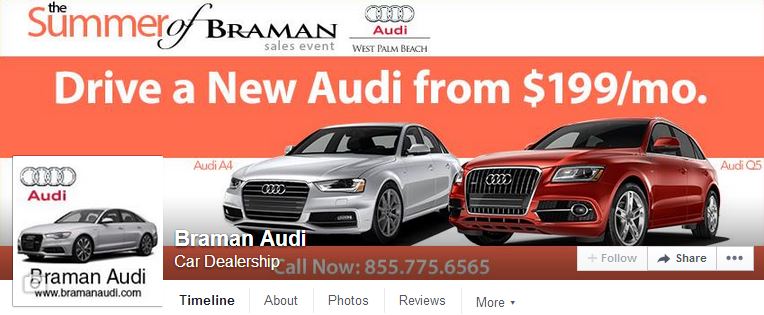 Highlight Important Posts
When you post something important on you brand's page, such as an event, promotion or a milestone, highlight it! That way, when fans visit your page, they will see the highlighted post near the top.
Highlighted posts are free, and will always appear on your timeline, while other posts become hidden over time. If you highlight a post about an event or special offer, you can always un-highlight once it is in the past.
While highlighting Facebook posts is a great way to showcase important content, make sure to be selective- if you highlight all of your posts it will only confuse visitors.
Boost Important Posts
Another way to increase exposure on important Facebook posts is to boost them. I certainly don't recommend boosting every post- just choose the best ones. I've seen great results by boosting posts about events, special offers, and major milestones or achievements.
Boosting a post allows you to reach more people, including those who have not engaged with your page, which can result in increased engagement. Here are a few tips about boosting Facebook posts:
Remember to only boost your own content. Even if you're sharing great information from another website, there's no real value in spending money to boost if you're just going to send traffic to someone else.
Utilize the targeting options. When you click Boost Post, you have the option to choose either pushing the post to "People who like your page and their friends" or "People you choose through targeting." Put some thought into who you want to see you post, and choose accordingly.
You don't have to spend crazy money.While boosting a post costs money, it doesn't have to cost a lot. For about $5, you can usually reach anywhere from a few hundred to a few thousand people, depending on targeting. If your content gets lots of shares, it has the potential to reach even more people.
Promote Important Posts
If you wanted to go beyond boosting a post, there's the option to promote posts. You promote posts on Facebook by using the Ads Manager or Power Editor, as shown below.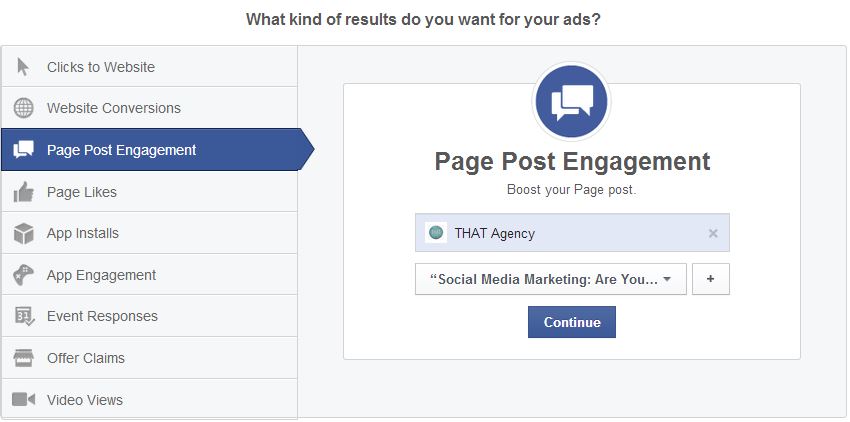 Promoting Facebook posts gives you the opportunity to utilize more targeting options than boosting a post, and you can use a conversion pixel if your post is sending traffic to your website where you've installed a conversion pixel.
Promoted posts also offer different bidding and budgeting options. For instance, you can choose cost per click or spend a certain amount per day or even switch between models if you wish.
Mix It Up
Maintain a balance of the different types of content that you post. Users will quickly get bored if all you do is post is salesy content that promotes your products.
I've found that it's best to maintain a balance of related news, personality and business. News can include industry related articles and what's happening in the community. Personality could be links to your blog, featuring customers, commentary on your industry, jokes or funny memes (tasteful of course). The smallest portion of your Facebook content should be actual self promotion, or business. This can include client testimonials, case studies, deals and promotions, or featuring new products or services.
What has you brand done to stand out on Facebook? Let us know in a comment!