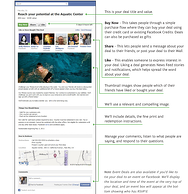 As you've probably already heard, Facebook recently launched their new Deals program designed to compete with Groupon. So far Groupon has been the leader in this area with Living Social in a close second. Facebook definitely has the potential to overtake Groupon in a flash, with a reach of over 500 million people the opportunities are endless. In addition to this, Facebook offers a "Friend Bonus" to give users a discount when friends purchase the same deal. The best part about this is Facebook users have all of their friends at the click of a mouse, so "Friend Bonuses" have a natural viral promotion. Groupon, on the other hand, has a similar "Friend Bonus" and does integrate with Facebook, however users must link their account, making the process less natural.
Facebook Deals also claims that they can gain further exposure of your deal by using their well known ads, by e-mailing users, and driving users to your business fan page. Other promotions include: Promotions through the Facebook Home Page, Facebook Deals Page, Sponsored Deals Unit (located on the right-hand side of the screen), Newsfeed Stories, Notifications (users are notified when friends buy or "like" the same deal). Users also have the option to share their deal when viewing, "like" it, and see who else of your friends have "liked" or bought the deal.
The future of Facebook Deals looks promising, yet if the response from users will be as widely accepted as Groupon is yet to be determined. View the info-graphic below for further break-down in comparison of the two, including other leading deal sites.