The biggest trends in technology aren't about new advancements as much as they are about using what we have more effectively and efficiently. While new technology does play a role in how we do business, the coming year will focus largely on utilizing tools, such as smartphones and social media, and making them integral components of everyday life for the small business.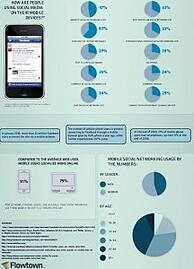 More businesses in 2011 will have to usher themselves into the 21st Century: an astonishing 65 percent of companies do not have websites. This would seem the most basic of technology, but it is one of the most necessary. Even if you are a business that depends on local traffic, a website is essential. More searchers are using mobile devices and targeting local businesses for addresses, phone numbers, directions, menus, and other information. They could be looking for you, but if you don't have a website, you are going to miss out on the surge of local searches.
For increased visibility, social media should be integrated into more business models in the coming year. While reports indicate that social media drives only 3 percent of traffic to websites, this could be a result of under-utilizing its potential. Facebook, Twitter, LinkedIn, and other media sites can be an effective way to reach consumers, build your brand, and convert traffic to sales. Social media is not new; what is new, however, is the necessity of being engaged in it.
More sites will optimize their sites for mobile search or offer a mobile-only version. More than a third of smartphone users have made a purchase via their phone, and almost two-thirds use their phone to research products before purchasing. These figures are expected to climb throughout the year, making mobile a must.
Technology is constantly in flux, and specific strategies for dealing with websites, social media, mobile and local search will change. The overarching goal of integrating these into your business, however, remains crucial.