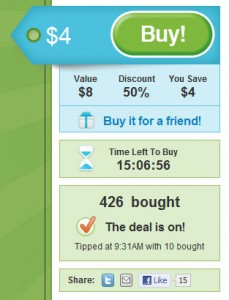 In the past, we've talked about various ways to market your local business online and through mobile devices. For Part 3 of our Local Business Marketing series, we're going to talk about using Groupon, Living Social and other similar coupon services to drive new customers to your local business.
Since these services seem to be all-the-rage lately, we're going to explain a little about how they work from the business and consumer-end. Next, we're going to talk about real-world applications for using these services to drive more business in the short and long-term. In the end, we hope to leave you with a good understanding (and a touch of saavy) of these services so that you can make the most the marketing tactics and avoid common pitfalls. As with any other advertising expenditure, intelligent ROI tracking is the only true measure of effectiveness and the only true determinant of whether an opportunity should be repeated in the future.
Groupon and Living Social Marketing
Lately, Groupon marketing seems to be the talk of the town in the local business marketing world. This seems appropriate as it's hard to ignore the apparent successes that many businesses are having simply by offering one great deal. Here are some examples:
Here's how it works:
Your business comes up with one, incredible deal which it is willing to offer customers
Groupon emails and promotes your deal for one day on their website, email newsletter, social networks and more
Customers have 1 day to purchase your coupons and are encouraged to share this great deal with their friends
Customers purchase the coupon from Groupon, Living Social or other similar services
Groupon or Living Social then they cut you a check when the deal is done
The benefits of using Groupon and Living social

With the right offer, Groupon can sell hundreds or thousands of coupons for your business in only 1 day
Cash in your pocket now
For businesses who thrive on repeat business, it's a great way to gain exposure to a mass of new, repeat customers
The risks
Groupon, Living Social and other similar services take up to 50% commission (sometimes negotiable)
Some of these services take as 2 months to pay out
Do these services really make sense for your business?
Now, let's talk about the neon-colored elephant in the room. By the time most businesses come up with a great offer and pay out 50% to Groupon and Living Social, is there really much room for profit? The answer, of course, is that it depends on your business. Many of the small businesses that we've worked with find greater value in the long-term relationships which they form with newly acquired customers, and thus, are extremely happy with this type of marketing. Additionally, many small businesses which also incur little additional costs for making good on their coupons (tanning salons, gyms, etc.) also see great value, because their operating costs change very little despite the uptick in new customers.
How to make it work for your local business
To make it work, businesses need to structure their offers such that they incur the least cost possible yet still provide the greatest apparent value to each customer. Restaurants, for example, typically give away coupons at values which still require customers to spend additional money when come to eat. For example, if a restaurant's average 2 price for 2 patrons is $50, selling a $40 coupon for $20 will ensure that most patrons will come in and spend at least an additional $10 for their meals. Additionally, the restaurant will find additional profit from any coupons which are not used. If a restaurant owner is smart, they will take the opportunity to 'WOW' these customers and provide incentive to get them back again.