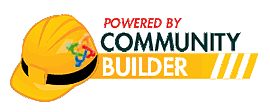 The world is getting more social – at least virtually. Social media is becoming an increasingly vital part of billions of people's everyday web experience, and Joomla's Community Builder plug-in can help ensure that your site is ready to meet the challenge. What functions does Community Builder add to your site?
With Community Builder, you can:
• Allow members to interact with each other through email or private message.
• Access additional user profile fields to get a better sense of your community.
• Gather more data with an extended registration form with more fields.
• Real-time email address checking and unique username checking.
• CB login to display member image, link to profile, and other features.
• Allow community members to create content on the site in the form of blogs, image galleries, forums, and more.
• Have reliable security and spam protection.
Community Builder is aptly named because it centers on expanding the functionality for your members. This is important in the social world because users expect to have a more active role in websites. Passive visitors are fewer and further between; allowing a greater level of interaction is key. You can create sites that offer an experience similar to those offered by Facebook or LinkedIn. You can also create sites that allow fans, employees, or friends to interact more meaningfully.
Some reviewers have found that Community Builder is not as easy to use as some other plug-ins and add-ons. This is true; it is a more advanced tool, and it isn't typically used out-of-the-box. But that doesn't mean you can't access its features if you don't have extensive technical experience. The best way to familiarize yourself with Community Builder is to view tutorials to get a feel for how it works and what it does. This can be tremendously useful for those getting started with Community Builder.