Have you ever tried to add your business to Google Places, YellowPages.com or other online business directories and noticed that your business was already listed? More importantly, did you ever wonder exactly how your listing got there? Today, we're going to look a little deeper into where this information comes from and how it can be applied to increased your local business exposure.
The Trickle-Down Affect
Companies like Google, Bing, Facebook, Foursquare, TomTom, YellowPages and others all, in one way or another, utilize business information within their applications. Search engines like Bing and Google display business listings within their search results. Foursquare is a mobile 'game' of sorts which allows users to 'check-in' to various businesses and locations to let their friends know where they are and what they are doing. TomTom is one of many GPS providers which also helps users find nearby businesses upon request.
The aforementioned services are only a few of a growing many which reply on various data sources in an effort to get the most accurate business data which is then used for various purposes. By comparing and combining multiple data sources, each of these websites and services are able to create fairly accurate and detailed business profiles, without relying on business owners to claim and update their own listings.
It makes sense, then, that the most efficient strategy for a local business to improve its visibility across all these channels would be to find out where this initial data comes from and to ensure that their business is not only listed, but also listed accurately. As business data is created or corrected at the top of this data pyramid, it can then trickle down to all of the services which rely on it. While this is especially critical for new businesses, it is also critical for existing businesses who have recently changed locations, phone numbers, websites, etc.
Simplified Data Flow Chart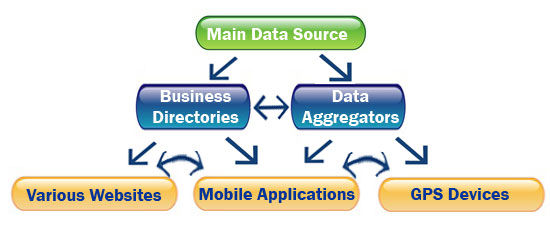 So Where is the Top of the Information Pyramid?
Several different data aggregating services exist, each of which provides business data to one or many lower level sources. Each user-facing service in turn, accepts data from one or more of these data sources. So, Google, TomTom, etc. could potentially purchase data from several aggregator services, compare the data found, and create listings based on the similarities of each data source. The more similarities that can be found, the more "sure" that these services are about the data and thus, the more practical it would be to use that data. Put simply, if Google finds the same information about your businesses across all its data sources, it may mean more exposure for your business simply because Google is more confident about the data.
Of course, there's more to Google's and other similar services ranking algorithm. This small part is an important one, especially if you're not interested in claiming and updating your listings on hundreds of websites. Utilizing services such as Localeze is a good start. These types of services gather data about businesses and provide it to partner services and websites which include major search engines and location based application companies which can include:
Search engines (Google, Bing, Yahoo, etc.)
Business directories (Yelp, Yellow Pages, etc.)
GPS software companies (TomTom, Magellan, etc.)
Mobile and Web Applications (foursqaure, GoWalla, etc.)
One last note is that it may also be a good idea to pick the biggest players in each of the above categories and claim your business listings there. This speeds up the process and ensures that your information and kept up to date, usually for free or at a low cost.