Ping, a social network for music lovers. Okay, so it has a target market, but is it really all that different than the rest?
The background...
Ping was created by Apple, as their attempt to break into the social network realm. Released a little over a week ago, the energy that Apple hopes to exploit with Ping is people-powered. And at a little over a million users, I think it is safe to say, they will accomplish that.
At its core, Ping allows music fans to channel their inner groupie, and:
Follow their favorite artists and become part of their inner circle and find out:

What kind of music they like
Status updates
Photos they post
Even join in on the conversation, by commenting

Follow their friends, and find new music, by:
Access their account through their iTunes app on the iPhone and iPod Touch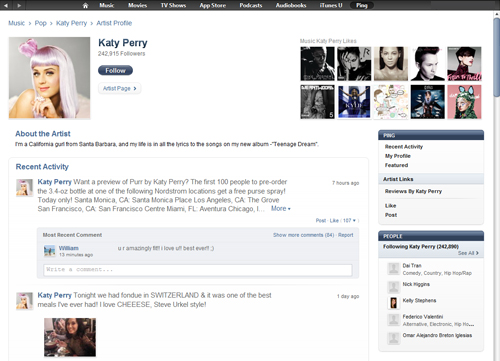 I am sure on paper, it sounded like a great idea, BUT…to me (a music listener, but not so avid music groupie), it just seems like another place that I have to log into each day, and get my musical fill. I've already phased out MySpace in lieu of Facebook…I wonder if this will have that same effect?
I suppose for the more musically inclined user, this is probably like hitting the jackpot, but from my understanding of how Apple works, for the true music lover who is looking to expand their musical horizons, this may not be the social network to do so. You see, because of Apple's relationships with the major labels, those independent artists were only included as an afterthought. And while they stock content from those independent artists, they tend to favor the major labels, giving this social network a somewhat unfair bias. And for the average user, if you want to contribute to the discussions, you will be sorely disappointed, as your only rights are the ability to comment.
At the end of the day, this social network IS ONLY a week old, so I am sure once the masses voice their opinion, it will be molded into something less corporate label oriented, and more about the little guy. I am sure with a name like Apple backing it up, it will not die quickly, and that Apple has plans to expand this into other markets…like their iBooks.
What do you think…just another social network?