Part 3 of our Understanding Website Analytics series is going to be brief. In this post, we're going to quickly talk about just one Google Analytics report that can help you better understand your need (or lack thereof) for a mobile version of your website. Of course, we wouldn't rely on this report alone to decide on the need for a mobile website, but it will tell you a few important things to help you make a good decision.
Google's 'Mobile Devices' Analytics Report
In Google Analytics, go to Visitors - Mobile - Mobile Devices: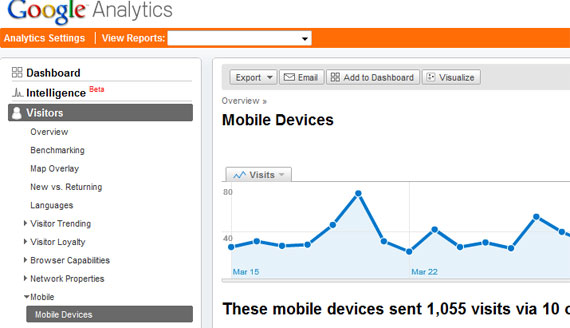 First, take a look at the the number of visits that mobile devices have sent and compare that number to the total number of visits that your website received during the same time frame. If a significant portion (or a significant number) of your visitors come via mobile devices, you may want to make sure that you're providing sufficient support for mobile browsing:

Next, take a look at the most popular mobile devices that are used to access your website. Knowing what the most popular devices are can help you in making the decision between creating an application for a specific type(s) of mobile device(s) or just creating a more mobile-friendly version of your website. For example, if an overwhelming majority of your visitors are using the iPhone, an iPhone app may be a good investment. If there is a fairly even balance of all devices, building a more mobile-friendly website (which can be accessed by all mobile devices) may be a more efficient way to support your moblile visitors: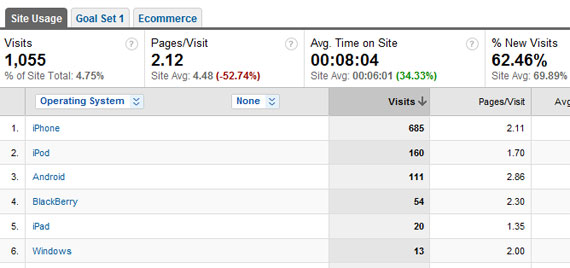 Lastly, consider the Bounce Rate and Pages/Visit of mobile users. While we'd expect bounce rates to be higher and pages/visit to be lower for mobile users on most websites, we'd still use these stats to keep a lookout for extreme stats such as exceptionally high bounce rates or low pages/visit ratios. Extremely high bounce rates or extremely low pages/visits can be an indicator that mobile visitors are having trouble loading or using your website:

The advancement of mobile devices/networks will certainly lead to an increased usage for web browsing and will also to an increased need to understand mobile browsing behavior. We'll talk more about mobile visitors and Analytics in future posts in our website analytics series.