Last time I checked, there were a few thousand Firefox plugins, many of which are geared toward web developers and SEO's alike. For every SEO plugin that I use, I've probably tried 3 or 4 others out that didn't work quite the way I need them to. Here are my 5 favorite SEO firefox plugins that make being an search engine marketer just a little bit easier.
#5 Rank Checker

Rank checker is an easy-to-use and convenient tool for quickly checking keyword rankings. I don't honestly use this tool too often but when I need to check a series of keywords quickly, (new client research, competitive research) it comes in handy. To use this plugin, just enter a domain and list of keywords and hit Start. You can choose to check rankings on Bing, Yahoo and / or Google. Additionally, results can be stored within the program to make comparisons later.
#4 QuickJava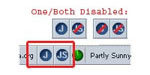 QuickJava is a simple plugin that allows you disable JavaScript easily. I mostly use this to check the navigation and crawlability of a website. After installing the QuickJava plugin, a Java and JavaScript symbols will appear at the bottom of your browser. Clicking on any of these symbols will toggle Java and JS on and off.
#3 Meta Description and Title on Top
This plugin has an incrediby descriptive name. Meta Description and Title on top is a simple SEO plugin that, believe it or not, displays the current page's title and meta tag. I only recently started using this plugin (to replace another no longer compatible with FF) and have found it incredibly useful in verifying that the correct meta description have been applied to new websites before launch. Meta Description and Title on Top is a simple plugin that saves a lot of time.
#2 SEO for Firefox
SEO for Firefox is another SEO Book creation of and displays website data like links, pagerank, traffic, age and much more within Google's search results. This one is pretty useful for doing surface-level competitive research. A plus to this plugin is that the data displayed is fully customizable so you can hide any information that you don't need.
#1 Foxy SEO Tool
Foxy SEO Tool is probably my favorites. This plugin adds a feature-rich toolbar to the top of your browser. The toolbar provides a quick way to perform frequently repeated functions like checking inbound links, indexed pages, cached page versions, traffic stats, internet archives and much more. I definitely make use of this one throughout the day.