As a website design, development and marketing company, when a client first comes to us to request more information on creating a website for them, one of the first questions we ask is: Do you already own a domain?
While seemingly an innocent question, from our agency point of view, I have come to realize that the sheer terror this arises in some of our clients, requires a straight forward step-by-step guide to complete this task.
The domain name's goal:
The domain name itself has one main goal. The main goal of a domain name is to give the public an idea of what information they might see when they land on your site. Some examples of this are: WebDesign.org, Hotels.com, SEO.com, etc. When performing a search within Google, if these sites were to appear within the results, based on their domain name, you would have a fairly good idea as to what you could find on their site.
Now that we have the domain name's goal clarified...Ready to begin? Grab yourself a cup of coffee, sit back, deep breath and now we can get started...
For the sake of simplicity, I am going to setup a senario for you, and reference it throughout this how to.
Senario:
Tina is a small business owner. She has a friendship bracelet store in Key West, FL. Tina has decided to expand her market reach, by venturing online. She wants a website to feature pictures of her friendship bracelets, show her store's location and allow her customers to purchase her friendship bracelets online.
Step 1: Research Domain Name Options
The best place to start your domain name research is with your companies brand name, or variations of that. Start by making a list of your companies brand name and variations of.
NOTE: it may be helpful to include addons such as LLC, INC, etc.
Tina's Brand Name List:
Tina's Friendship Bracelets
Tina's Friendship Bracelets, Inc.
Once you have a list of brand name domain name options, start making a list of services/products your company offers, company location and any other relative terms you may come up with.
Tina's Description List:
Friendship Bracelets
Friendship Braceletso Store
Key West
Florida
Key West, FL
Step 2: Check Domain Name Availability
The next step is to check the domain name availability. Utilizing a few different websites, you can do this quickly and with little effort. Register.com is one of my personal favorites.
In a best case senario, your brand name is available and you can move right along to step 3; however sometimes that is not the case. If you are not that lucky as to have your brand name available, you can utilize these sites to type in different variations of the two lists you have made.
Tina's Example Variation List:
www.friendshipbracelets.com - taken
www.tinasfriendshipbracelets.com - available
www.tinasfriendshipbraceletsinc.com - available
www.friendshipbraceletskeywest.com - available
www.keywestfriendshipbracelets.com - available
www.friendshipbraceletsflorida.com - available
www.floridafriendshipbracelets.com - available
www.friendshipbraceletsstore.com - available
www.friendshipbraceletsstorekeywest.com - available
www.keywestfriendshipbraceletsstore.com - available
www.friendshipbraceletsstoreflorida.com - available
www.floridafriendshipbraceletsstore.com - available
Step 3: Purchase / Register Domain Name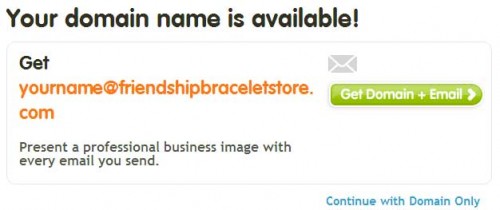 Once you have determined if your domain name is available, you can now move forward and actually purchase it! A common mis-conception is that you need to purchase a domain through your ISP; however it is just a mis-conception. There are many sites that will let you purchase your domain. Some examples are: www.register.com, www.godaddy.com, www.networksolutions.com, etc. So, my advice here is to shop around. Different sites will have different costs. Additionally, another great option is to purchase your domain when you sign up for your hosting account (how to on this to follow), because they will sometimes add on one domain for free when you sign up for hosting. Most all of these sites have a simple step-by-step process walking you through the purchase of your new domain. They usually run something like this:
Enter domain
Enter contact information
Purchase domain
That's it...you're done!