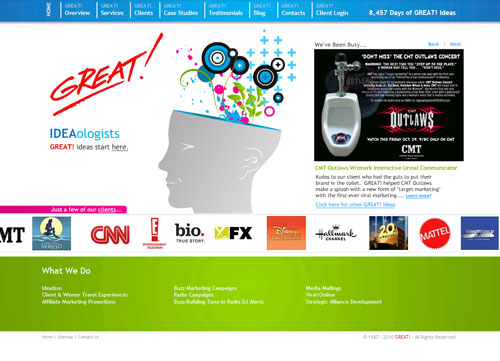 THAT Agency was asked to come up with a creative online solution for GREAT!, an "out of the box" marketing firm. THAT Agency delivered, producing a vibrant and functional site that embodies what GREAT! is all about.
Constructed on a PHP base platform using lightning fast table-less CSS techniques and various flash elements the site comes alive with minimal download time. The site also uses various aspects of advanced jQuery techniques giving it the interactivity and user engagement that met all of GREAT!'s expectations.
Included within the site is a full list of case studies, photo galleries, downloadable MP3 Radio Spots and a complete library of PDF downloads. The site also features a client log-in area for their ever-growing list of impressive and well known clients such as Disney, CNN, A&E, AMC NBC, Nickelodeon and Showtime.