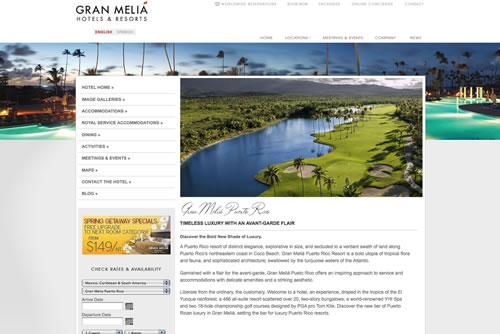 Once again another successful Sol Melia hotel website launch by That Agency. Located in Rio Grande, Puerto Rico, Gran Melia Puerto Rico is a stunning luxury hotel embodying the style and flair of Gran Melia.
That Agency's creative and development team successfully deployed another home run for Gran Melia, a Sol Melia Brand site.
As with all Sol Melia sites, THAT Agency has design and developed it follows the path of clean elegance and aesthetic. Gorgeous photography, open white space, clean lines and an organized user interface make this site a visual pleaser to visit.
The site itself was built on a PHP base framework utilizing Prototype for a user-centric and dynamic approach to web design. Keeping the layout clean and organized is a well written Cascading Style Sheet (CSS) eliminating cumbersome and non-seo friendly tabled layouts of the past.
Upon visiting Gran-Melia-Puerto-Rico.com you'll be greeted by a smooth flash animation of hotel imagery conveying the sophistication of the hotel itself.
In addition, the site easily spans the language barrier by incorporating an entire site that caters to the Spanish speaking visitors of the site. This, in-turn expands the worldwide searchability, overall site ranking and audience reach of Gran-Melia-Puerto-Rico.com by THAT Agency, a Google Adwords Qualified Company.