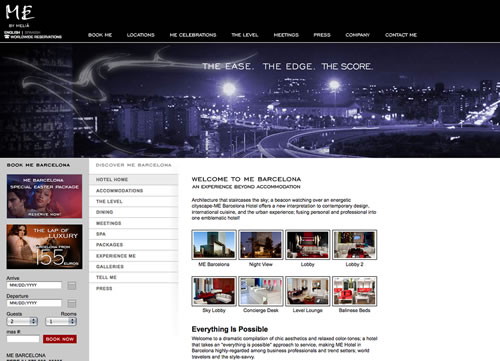 Sol Melia Hotels naturally turned to THAT Agency to once again deliver a five star website for their five star hotel located in Barcelona, Spain. The creative and vibrant result is ME-Barceona.com, a site that defines luxury, class and elegance in an urban setting.
Using a mix of vibrant aesthetics and thoughtful usability, THAT Agency proved it's energy and creativity in producing a website of this caliber. Custom, clean, sleek and function driven design mimics the very essence of sophistication that comes with visiting a ME brand Hotel.
Using the latest in AJAX techniques, Flash animations and storylines, ME-Barcelona.com is a rich and full online experience of the hotel. Built on a solid PHP platform the site features several interactive photo galleries, online house music samplings and a full series of virtual tours - this site truly lets the user visit the site before ever booking a room.
Delivered in both English and Spanish the site spans a wide and diverse audience across the globe. Catering to the most sophisticated and discerning visitors it supplies the means to quickly and easily find what you need efficiently.
ME Barcelona is pure style.