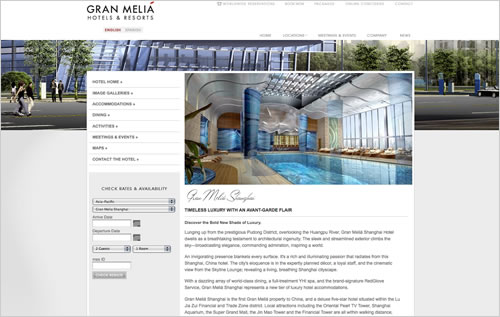 The West Palm Beach web design and marketing firm THAT Agency successfully launched yet another luxury hotel web site for Sol Melia. Gran Melia Shanghai Hotel now has an online presence to match it's already stylish persona.
Gran Melia Shanghai is the latest of 12 luxury hotels by Sol Melia. The hotel itself overlooks the Huangup River in China and is located in the bustling metropolis of downtown Shanghai.
Designed in the distinctive look of the Gran Melia Brand and in homage to the luxurious hotel itself, it offers a unique look into Gran Melia Shanghai's stylish experience.
Full screen horizontal imagery and an intuitive interface make Gran Melia Shanghai a visual stunner that surrounds the user in a rich web experience of imagery and information allowing the user to quickly and easily book a room from any page.
As with all Gran Melia hotel sites THAT Agency utilized several technologies in it's arsenal of design and development tools. The site itself was build on the solid PHP platform in conjunction with Flash visual animation elements as well as the full interactivity of the Prototype Javascript Framework. All combined to make Gran Melia Shanghai an incredible online experience truly embodying the spirit of the luxurious Sol Melia hotel.