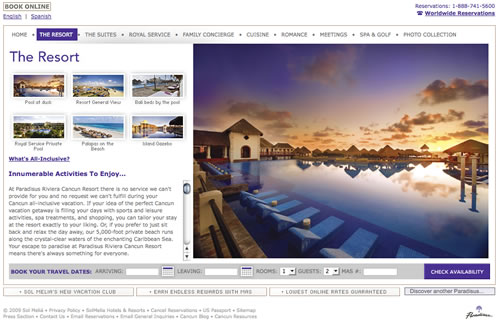 West Palm Beach's leading web design firm THAT Agency launches a whole new realm of worldwide availability to Sol Melia's luxury hotel Paradisus Riviera Cancun. By adding a Spanish version of the popular hotel site THAT Agency not only expanded the user base, it increased the overall search engine traffic and web exposure of the Sol Melia hotel.
The Spanish version of the site, as with the English, was developed using table-less CSS layouts and well optimized XHTML allowing both users and SERPS to quickly index and peruse the site with ease.
The hotel itself is located in lively Cancun, Mexico. An all-inclusive resort, it's an ultimate Caribbean vacation destination.
The sites lush imagery and interactivity makes ParadisusRivieraCancun.travel a pleasure to visit. CSS and flash navigation elements make it incredibly easy to find exactly what you're looking for all the while allowing the user to effortlessly book a stay at this Caribbean paradise.
THAT Agency's continued commitment to Sol Melia and it's Hotel sites both in design/development as well as Search Engine Optimization (SEO) have kept Paradisus Riviera Cancun an enjoyable and popular online destination.