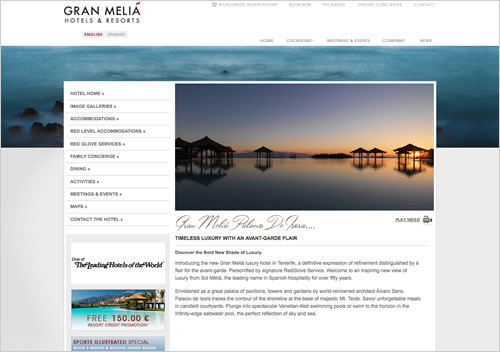 West Palm Beach's top web design firm, THAT Agency has launched yet another stunning website for Sol Melia. Gran Melia Palacio de Isora located in beautiful Tenerife, Canary Islands reflects the style and flair that is the Gran Melia Brand.
THAT Agency successfully married the elegance and class of Gran Melia Palacio de Isora with up-to-date web technologies producing an online presence to experience.
Emotional imagery with luxurious feel greet the user allowing the hotel's overall beauty to do the talking. White space and a clean and concise navigation scheme guide the user effortlessly through the site.
THAT Agency delivers exactly what was needed to get this chic site up and running. Constructed on a stable PHP background utilizing elements of Flash, Prototype and a well written and organized library of CSS docs the site is at the very forefront of online hotel competitors.
An easy to navigate and intuitive online booking engine add to the functionality and success of Gran Melia Palacio de Isora allowing the visitors to not only experience the site through strong visuals and information but book a stay at this luxurious resort with ease.
Written in both English and Spanish it completely caters to a worldwide audience as well as serve as broadening Gran Melia Palacio de Isora's online presence in search engines. The Adwords Qualified company of THAT Agency tirelessly pursues greater searchablity and web exposure to better produce a greater ROI than your average hotel site.
Gran Melia Palacio de Isora, timeless luxury with an avant-garde flair.