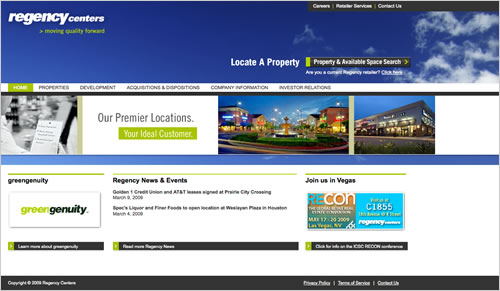 Regency Centers, one of the largest commercial real estate owners commissioned THAT Agency to really come up with an online method of of managing their ever-growing list of shopping centers across the United States. Owning over 450 community shopping centers Regency Centers took a step in the right direction with THAT Agency.
Working closely with Regency Centers' brand managers, THAT Agency set out to redefine the commercial real estate online web presence. The site is user driven allowing every visitor to search the immense library of available properties, site plans, layouts, demographics, tenant standings, photo galleries all while delivering a pleasing aesthetic not yet known in this field.
Built on a solid PHP background, Regency Centers utilizes a vast array of web technologies to bring the most user-centric and branded face of Regency to the web. Layouts constructed entirely using table-less CSS scripting coupled along with Flash, Microsoft Virtual Earth and an enormous online database THAT Agency delivers a well rounded online tool capable of immense growth and scale-ability.