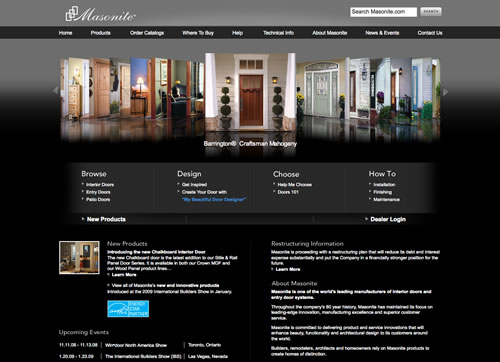 Masonite, an industry leader in exterior and interior doors contracted THAT Agency for a new online presence and THAT Agency delivers a unique experience.
The new home page design easily and efficiently allows the user to find anything on the site. Well thought out navigation and an interactive photo gallery slider combine for an intuitive interface.
Constructed using PHP, Flash, AJAX and table-less CSS the site is the perfect mix of form and function.
An incredibly unique online interactive door designers allows the user to completely design the perfect door their needs. Interior, exterior and patio doors are all included as well as transoms, sidelights all available in a library of different styles.
Boasting an enormous collection of products the user can easily find the perfect door for their house. The site plays a vital role in keeping Masonite at the very forefront of their industry.