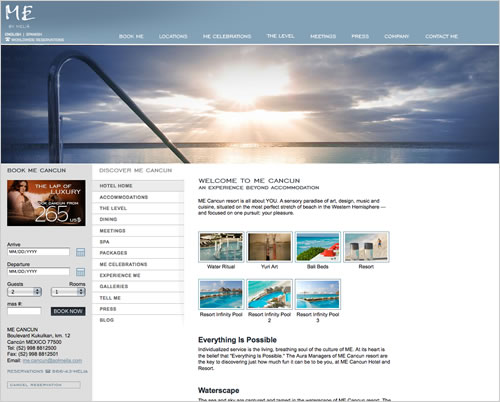 THAT Agency, a leading West Palm Beach web design agency successfully launches the completely redesigned ME Cancun experience. ME Cancun, on of four ME Branded hotels by Sol Melia is located in sunny Cancun Mexico.
Upon visiting the new site you'll be greeted by a smooth and lush visual storyboard taking you through the hotels style and flair. Brilliant photography really define the experience of ME Cancun.
Built on a solid PHP platform and utilizing a vast array of online technologies ME Cancun redefines the online hotel website. Ajax Lightboxes quickly and easily allow the users to view the broad scope of gorgeous imagery throughout the site.
As an added feature, ME Cancun runs it's own online travel blog allowing the quick ability to update the site with fresh content that's both great for search engines and keeps the hotel guests up to date on items around the hotel.
Spanning the language gap from English to Spanish, ME Cancun caters to a ever growing demographic.
Image galleries and a unique online experience of several virtual tours give the visitors a real world view of this extravagant hotel.