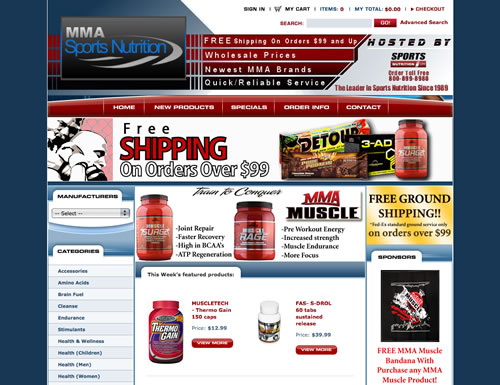 SportsNutrition.com a source of wellness and fitness on the web was successfully launched by THAT Agency, a leading web design firm located in downtown West Palm Beach, Florida. The site features a complete online store allowing users to easily purchase supplements, vitamins and all manners of sports nutrition.
Custom built CMS and cart solution, SportsNutrition.com is much more than just an online e-commerce solution but the sole online persona of Sports Nutrition. The site allows the use of gift certificates, coupons and a viral marketing campaign to notify friends of new and exciting products available online.
SportsNutrition.com also has the ability to track it's own inventory online, manage drop ship orders and track product shipping making the custom cart a perfect solution for online success.
THAT Agency also set up real-time tracking and stats reporting to better help SportNutrition.com understand what kind of traffic is visiting the site, it's return on investment and most popular products. Utilizing Google Analytics THAT Agency increasingly delivers results and information necessary to keep Sports Nutrition on top of an already very competitive field.