If you're one of the 700 million iPhones users in the world, this week came with some changes as Apple released its newest update: iOS 11. With a handful of new features to capitalize on as a business, the one that has the most potential for in marketing is the iPhones ability to identify and read QR Codes without a third-party app. Does this mean those little pixelated squares will be popping up in everyday life? Only time will tell, but these codes might have a bigger impact than you think on your mobile marketing strategy in the not too distant future.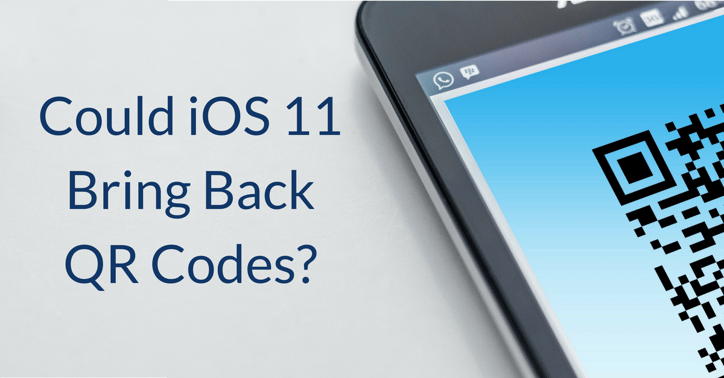 What are QR Codes?
Invented in 1994, a QR codes are two-dimensional barcode system that can be scanned digitally. Their use was originally meant for scanning and tracking vehicles in a speedy manner to improve supply-chain efficiency, they're use trickled into other industries including supermarkets, online ticketing, and of course, advertising.
Too Early or Too Ambiguous?
Even though these codes have been around for almost 25 years, success in the advertising and marketing industry has been few and far between. According to Comscore, only 16 percent of Americans actually used these codes as of December 2011. While it might seem like an outdated stat, this was the height of the iPhone 4 generation, and the release of the iPhone 5 would come later in the following year.
Whether the world was focused on the novelty of smartphones or they just didn't understand what these codes were for, the fact remains that the majority of people never used them. Were they skeptical about being targeted by spammy advertisements or was the process just too much too soon?
The overarching thought I had was, "Why would I download an App just to take a picture? What's the camera for then?"
Subtle Snapchat Success
Without people catching on, QR codes plateaued in supply chain logistics and ticketing industries. However, Snapchat came along and subtly used a similar method to allow their users to easily add friends.
Coined "Snapcodes", these were user specific squares that you could screenshot to add friends on the selfie-centric social media platform. They employ the same logic and functionality of QR's, but they added one element that really caught on: personalization.
Why Now?
Before the iOS 11 update, you needed an additional app to view the message hidden behind these ambiguous squares. There was friction and in an increasingly "I want it now!" society, it was simply too much effort for such little reward.
As we learned with Pokémon Go, Snapchat, and Instagram, people have no problem walking around living life through their digital viewfinder. Now that the camera can decipher a QR code, it's as simple as point and shoot.
The Ultimate Question: Will They Catch On?
Just like back in 2011, the biggest challenge for marketers will be getting people to snap a pic of the codes. However, the world has dramatically changed since then. Instagram took off. Snapchat was created. The selfie generation was born and artificial intelligence boomed. Obama was still in his first term and his "BlackBerry" was a hot issue.
Now, we have a president that tweets. I'm not getting political, but my point is that digital media has made its way into almost every aspect of our lives.
For the potential of these codes to be realized for businesses on the consumer level, they need to be re-introduced in a relevant, valuable, and most importantly shareable manner.
Using QR Codes in Your Marketing
So what does this new iOS 11 feature mean for your mobile marketing strategy? As with anything, it won't be a perfect fit for every business, but there are a few ways you can reach your target audience by utilizing these codes. Here are a few examples:
Guerilla Marketing Campaigns
These eye-catching, unique, and sometimes edgy marketing campaigns can effectively cause people to virally share your brand across social media. Spotify's latest campaign is a great example of this is a great example.
Putting these codes with compelling text, imagery, and other contextual information in unexpected places can now be an effective way to drive people to your website, deliver promotional ads, or any other digital campaign your business decides to run.
Brick and Mortar: Bridge the Digital Gap
A common problem we see location based businesses face is getting people to walk through the doors from digital media. These codes can be used to target people geographically and placed strategically around town, or across your digital channels with promotions to drive people through the doors. A little creativity is needed, but it could provide stores with an additional tactic to earn revenue.
Closing Thoughts
I'm hesitant to commit to these codes as the past shows limited use, but this functionality changes things. We've seen Snapchat personalize and grow their business model with them, and now that iPhone users can read them there's an ocean of potential.
In the wise words of Gary Vee, marketers ruin everything unfortunately and the potential for us to re-introduce these scannable ads into the market the wrong way poses a huge threat. We need to keep the focus on the consumer. We need to illicit emotion so they scan and share these codes in the moment. Only then will businesses be able to capitalize and make it an effective marketing tactic.