When it comes to choosing the right CMS (Content Management Systems) for your website, you need to make sure you're getting exactly what you need so you can create a site that aligns with your brand, and more importantly performs with optimal results. Your CMS is the engine that fuels the content on your site, but they're not all created equal. In this cms comparison, I'll highlight the differences between the WordPress CMS and HubSpot COS (Content Optimization System) so you can better decide the best option for your business.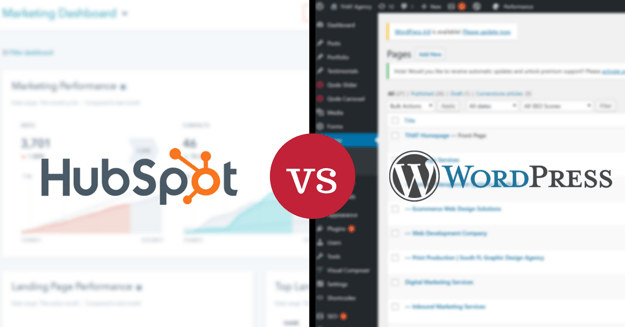 A Quick Overview
Depending on the type of site you have, or are looking to build, you'll need different functionalities from your CMS so you can achieve your marketing, sales and business goals. For the purpose of this post, the ultimate goal of the CMS you choose is to effectively manage, organize, and optimize your website's content in a centralized location while being able to efficiently make changes as needed.
Let's get started!
WordPress
Starting out as a platform for blogging, WordPress is an open-source platform that provides businesses with the solution to host content. From there, you can choose from thousands of integrations to install to add the functionalities you need for your website.
HubSpot
HubSpot delivers a full digital marketing software package with a focus on inbound marketing. They're labelled as a COS instead of a CMS due to the increased seo functionality built directly into the software. This platform focuses on delivering a complete marketing and sales solution for business to drive engagement and increase revenue across multiple digital channels.
Websites
Your website is your biggest digital marketing asset so it's important that it's "command center" is set up in an organized way where it's easy to make changes as needed. As a business, you need to make sure your website is built to support your marketing, sales, and business goals by integrating into every aspect of your marketing strategy.
WordPress
Numbers suggest that around 25% of all websites are on WordPress. Many of these are individual sites that aren't intended for business purposes, however it's an impressive number regardless. This platform provides thousands of themes for websites, however if you want to make customizations to the theme you'll need coding knowledge or a developer on staff with working knowledge of PHP.
You'll also need to host the website externally, which means your content delivery network (CDN) and site security are dependent on your hosting provider. Other additional plugins include an SEO-optimizer and a drag and drop page editor to make the page creation and optimization process much more efficient.
HubSpot
On the other hand, HubSpot strives to create a platform for business people to easily create websites without extensive coding knowledge. When you build a website on HubSpot, you get their hosting, CDN, their full security team, built-in SEO optimization, and an easy to use drag and drop page creator.
All of HubSpot's websites are built with a mobile-first mentality as well. Their easy to use design manager allows you to easily manipulate the different page templates you've created so you don't have to go in and make adjustments to code every time you need to make a simple change to your site.
Blogging Software
Both platforms have a high focus on blogging, and for a good reason. There are plenty of benefits to regularly posting to your businesses blog, and your CMS will determine the efficiency and effectiveness your posting routine.
WordPress
WordPress started out as a blogging platform, so an easy way to upload and publish blog posts goes back to their roots. They offer a distraction free blog editor with the capabilities to schedule posts and promote posts on social media so you can get the word out there about the great content you're creating.
Unfortunately, if you want to include more business-driven elements to your blog, you'll need additional plugins. For example, you'll need to install a plugin for an seo-optimzer (an essential for your business blog). While many of these are free, some require accounts with other software so the costs could start piling up once you get started.
HubSpot
As a COS, HubSpot's software focuses on providing business with the ability to create discoverable content. Their blogging software includes a full suite of important tools that will set your blog up for success. These tools include a built in seo-optimizer, mobile friendliness, analytics software, content collaboration, and a CTA creation tool to drive leads to the next step. Many people ask, "Is Hubspot worth it?", and this point alone should answer any doubt they might have.
And the Winner is…
Each of these CMS platforms provide businesses with the ability to organize and publish their content across digital channels. However, if you're looking for an all-in-one solution without the need of hiring a developer or buying other services for your optimization efforts, HubSpot is most likely your best option.
HubSpot's "out-of-the-box" functionalities and benefits blow WordPress's away in that you don't need to install a handful of integrations to get your website running in a way to drive and measure results. Optimization, security, and analytics are all built in to HubSpot's platform while it can take additional hours and money to include these aspects into your WordPress site.
HubSpot also has a host of marketing tools including email marketing, social media center, as well as "Smart" content capabilities with a full CRM so you can see engagement each contact is driving across your digital marketing channels.
If you have a question about the differences between the two CMS platforms, contact an agency that has extensive experience providing cms services. Luckily, THAT Agency is one of them! Simply reach out to us and we'd love to talk about which one would be best for growing your business.