Breaking news: the vast majority of the car buying public hates the vehicle buying process. All right, it's not exactly news. But how do you sell more cars when you're fighting against generations of traditional high-pressure tactics and ingrained dislike? Simple. Educate.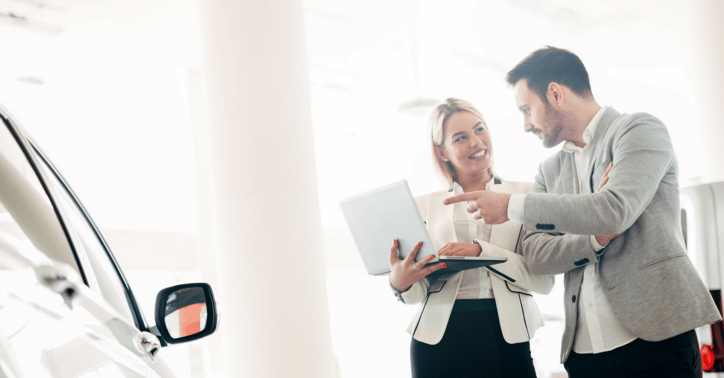 The hard sell has definitely seen better days; today's consumers want information with which to make their own decisions. When you provide real, relevant content, you become the trusted authority. Without the pressure. Without the haggling. Without the hassle.
The only question is: what do you write about? We've got you covered:
FAQs.

What are people always asking you? Wouldn't it save time and resources if you could gather all that intel in one place? Sure would! It'd also be helpful to potential and current customers, which is ultimately the goal.
So gather up all the questions your team's asked on a daily basis, create concise answers, and post them. You can separate them by category (e.g. service, trade-ins, finance, test drives, etc.) to create more rich, easily navigable content.
How-Tos and Top 10 Tips.

(Or Top 3, no pressure!). People want to know what to do if… they see a Check Engine light, need to trade in an older vehicle, want to secure favorable financing, would like to fill out their paperwork online, want to ask the right questions during test drives, etc. How-tos and tips are always hot. Again, separate them into categories so your prospects can find what they need when they need it.
Vehicle of the Week.

Have a gorgeous new model that just rolled onto your lot? Have a vehicle that's been sitting a bit too long in your showroom? Spotlight it. Tell prospects about the car's best features and the deals you're prepared to offer.
Comparison Posts.

What's the difference between model X and Y? It can be difficult to tell - so give your audience some help. A comparison post puts the specs on display as well as a breakdown of onboard tech, safety features, and available "extras." A helpful chart can be just what prospects need to make their decision.
Seasonal Advice.

Yes, there are seasons in Florida! And many of your customers may be coming to you from further afield. Appeal to them with helpful tips for maintaining their cars and driving during different seasons.
For example, you could do "5 Tips to Get Your Car Winter-Ready" or "3 Ways to Help Your Car Survive Extreme Heat."
Bonus: create a checklist-style post. There's a feeling of accomplishment when people check off their tasks. Another bonus: this type of content is incredibly shareable.
Meet the Team.

Put a face to the names and give your prospects and customers the inside scoop on your sales team. This can help them feel more comfortable when visiting because they see the salespeople as… well, people.
You could interview one team member per month and/or empower them to create content too. For example, if Sue is a finance whiz, have her write some tips. If Ed knows the ins and outs of every new model coming off the assembly line, have him do up a comparison post or opinion piece.
Your automotive marketing agency can help you come up with enough topics to keep your content machine humming smoothly. From car industry events and shows to service tips and finance advice, you'll have enough inspiration to create a fully-stocked content resource that will help you sell more cars.
The bottom line is you cannot differentiate yourself on cars, on service, on price anymore. You need to differentiate on facilitating the customer journey online and off. Your blog is an integral tool in the endeavor.