West Palm Beach, FL - To prepare to kickoff new marketing initiatives in 2018, Atlantic Pacific Insurance retained THAT Agency to develop its foundation - their website. Replacing their dated and underperforming website was top of their list, as it serves as the axis for which their marketing spokes will stem from.
The new website was custom designed and developed on the open-source content management system (CMS), WordPress. With the amount of information, and verticals API services, it was imperative to develop a strategic user friendly, website with a clear path to conversion for each website visitor.
The new Atlantic Pacific Insurance website boasts a clean, modern, full-width custom website design, with custom fonts, large imagery and a corporate color palette. The content management system allows API administrators the ability to manage all aspects of the website, change out content and imagery.
Prior to launch, the new API website received THAT Agency's custom website optimization package, ensuring the website is at peak performance to both rank well within the search engines, and load quickly across all devices and connection. These optimization services included, but were not limited to, keyword research, meta creation, content and image optimization, XML/HTML sitemaps, 301 redirects, and more.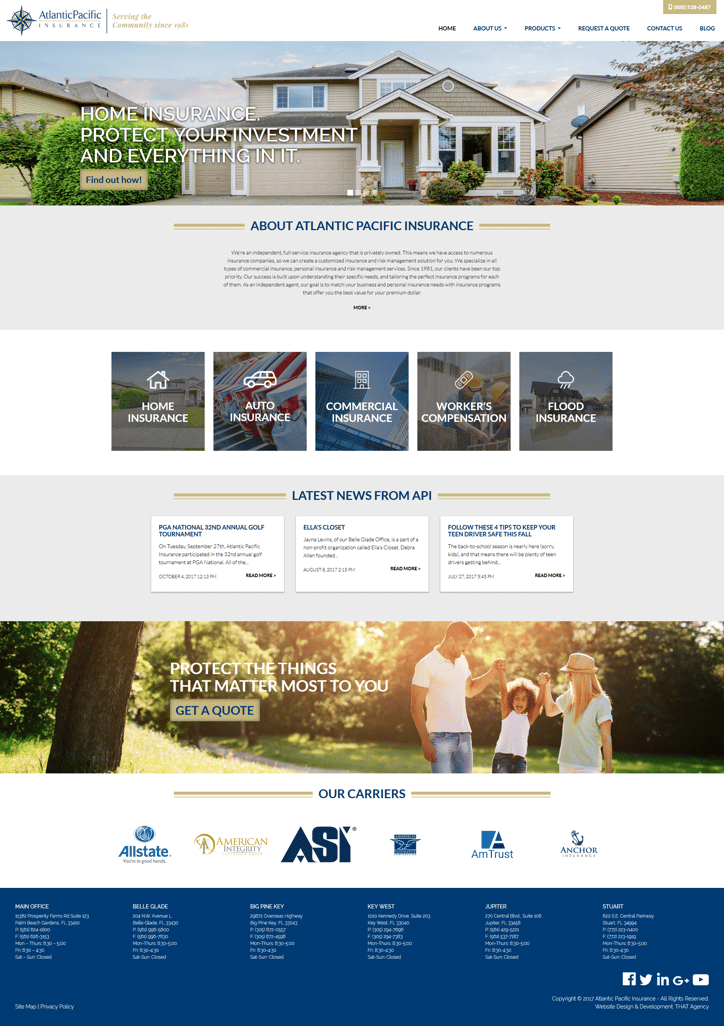 About Atlantic Pacific Insurance
Atlantic Pacific Insurance is an independently owned and operated, full-service insurance agency that has been serving the community of Palm Beach County and surrounding areas since 1981. Our mission is to provide our clients with a trusted advisor that is dedicated to customized insurance and risk management, so that they may be best protected in all circumstances. With service that exceeds our competition, Atlantic Pacific provides its clients with insurance and financial services not provided by others, including our trademarked CompAdvantage™ program. Want more information? Check out Atlantic Pacific Insurances new site or contact THAT Agency.
About THAT Agency
THAT Agency is a full-service interactive design agency whose focus is all about their clients, including their web designs and development, search engine optimization and pay per click management and social media marketing. THAT Agency also provides business planning services, such as: specification documentation, wireframes and competitor analyses, for companies of all sizes, from start-ups and sole proprietorships to Fortune 500 corporations. For more information about all of the services or to get a quote, see THAT Agencies services or give us a call at (561) 832-6262.