Imagine a cocktail party, filled with all the colleagues, clients, associates, contacts, and connections you need to help you reach your business goals. Now, imagine that you're late, you insult some guests, while ignoring others. You talk, loudly and endlessly, about your favorite topic: you. And, worst of all, you eat all the bacon-wrapped shrimp. How effective is that party in driving your career and company to new heights?
Social media is the world's largest cocktail party. It's an opportunity to meet and greet, mingle, make connections, strengthen brand value, and enhance results. The question is, are you the savvy guest everyone wants to talk to - or are you the one who people roll their eyes at and try to avoid?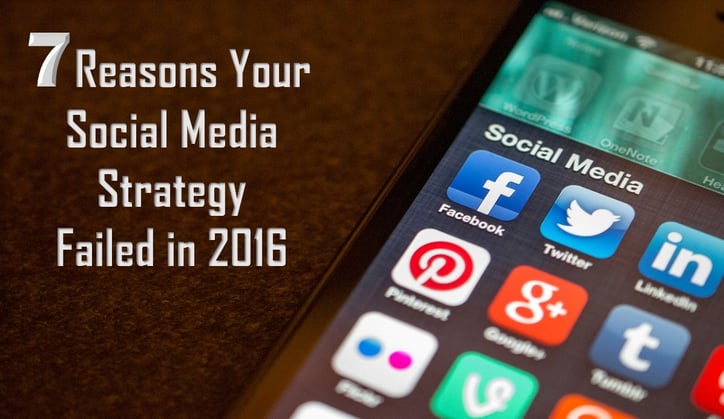 You Need to Be at the Social Media Party
Social media isn't an option: with over 1.7 billion Facebookers, 1 billion YouTube users, and hundreds of millions of others on platforms from Twitter and SnapChat to Reddit and Instagram, this is where your audience is.
Most brands know this and understand the importance: over 91 percent of retail brands, for instance, utilize two or more social media channels. About 93 percent of B2B brands are social, and over 70 percent use the "Big 4" channels (Twitter, Facebook, YouTube, and LinkedIn).
But quantity doesn't make quality. The news is filled with cringe-worthy social fails. Bic, for instance, "honored" South Africa's Women's Day by advising that a woman should "act like a lady" and "think like a man." The US State Department tweeted: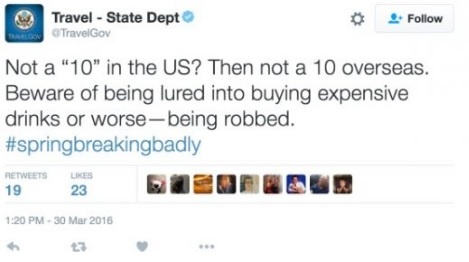 Basically, be careful - because you're not that hot. In yet another instance, TotalBeauty magazine, stoked to see Oprah at the Oscars, tweeted how much they loved her tattoos. The only problem was that "Oprah" was really Whoopi Goldberg.
In addition to these highly-publicized fails, though, is an equally - and perhaps even more insidious - problem: no one notices you. You are the wallflower at the cocktail party. Your social media strategy doesn't help you build brand awareness, engagement, loyalty, or bottom line results. Whether you fail with a bang or struggle silently, the end result can be the same: wasted time, resources, and effort.
Getting it right is essential, and the first step is analyzing how you're getting it wrong. Some of the most common social missteps:
Failing to Target Your Audience
There are nearly two billion social media users in the world - and you do not need to reach them all. In fact, casting too wide a net can prevent you from achieving your key objectives. Start by asking this basic question: Who are the people who will help you reach your goals? Employees? Prospective recruits and customers? Millennial women? Baby Boomer consumers with disposable income?
Conduct market research which encompasses your industry, trends, competition, etc. Using secondary sources and primary interviews/surveys from current stakeholders, you can access the information you need to narrow your audience. Then, find out where they are (e.g. Baby Boomers frequent Facebook in droves, Twitter tends to attract males and more affluent demographics).
The first commandment of social media: know thy audience. This informs every aspect of your strategy, from platform choice to content creation.
Failing to Interact with Your Followers and Fans
Put yourself back at the cocktail party, but this time, envision yourself as the host. What if you ignored your guests, didn't take the time to ask about them or listen to them, and generally behaved as if you were doing them a favor by letting them come to your party? Likely, they'd leave!
The same is true when it comes to social media. This is an opportunity to build relationships, interact, and connect. If you fail to engage them in compelling conversations, they will go elsewhere - and take their money, talent, connections, and influence, with them. Best practices: read comments, respond - especially if they're negative, and keep posting knock-out content to draw people in and provide value.
Being...Boring
Social media is about personality - if you fail to show off your brand's unique identity and culture, you're not going to engage or attract followers. If you do, watch out. Oreo, for instance, hits it out of the park with great content. Their 2013 Vine video series spoofing horror films, for example, was completely on-target and aligned with their brand. Fun - and the "chilling" scenes made you want to reach for a cold glass of milk and a few cookies. Do you; display your personality.
Boring is a social media sin: take a look at some brands who nail personality.
Tooting Your Own Horn Too Much - Or Not Enough
Balance is everything. Over-promotion is a great way to turn off followers. Ultimately, who cares how great you are? Your customers/employees/other stakeholders want to know what you can do for them. On the flipside, however, you want to highlight your offerings and value proposition. You want to connect followers with the content or services that will provide the most value. Promoting some posts is critical.
Follow the rule of 3's. One-third of your content should be personal interactions or original content, one-third curated content, and one-third promotional.
Not Taking Advantage of Ads
Social media advertising has become much more effective and much less intrusive. Ads do not get in the way of user experience, which makes it an ideal channel for you to pursue. The key is to blend in in terms of your graphics/aesthetics/design - e.g. creating simple image-based ads for Instagram - but differentiate your brand with engaging captions or targeted hashtags.
Closing Off Other Marketing/Engagement Avenues
While you cannot afford to neglect social media, nor can you focus all of your efforts - and budget - in this area. Yes, it is a stellar tool for engaging your audience. Yes, it is often cost-effective. Yes, you can generate bottom-line results. But it is just one facet of an overall strategy. Do not discard other reliable methods, which may include print, television, email marketing, content marketing, in-person events, and more.
Failing to Measure
What's working? What's not? If you do not track key metrics of your social media efforts, you are wasting time and money. Moreover, you are failing to capitalize on key opportunities. Go beyond how many likes and shares a post generates. Look at click-through rates, mentions, profile visits, and impressions.Tools like HootSuite can help you track these. Doing so enables you to tweak your strategy and really connect with your audience when, where, and how they prefer.
If you are "guilty" of one or more of these seven mistakes, it is time to reevaluate your strategy and look into social media marketing services. Social media has the power, and the enormous usership, to take your brand to new heights - or to sentence it to stagnation. Success requires more than popularity; it's the value that you can demonstrate and provide to followers. Which type of cocktail party guest/host do you want your brand to be?