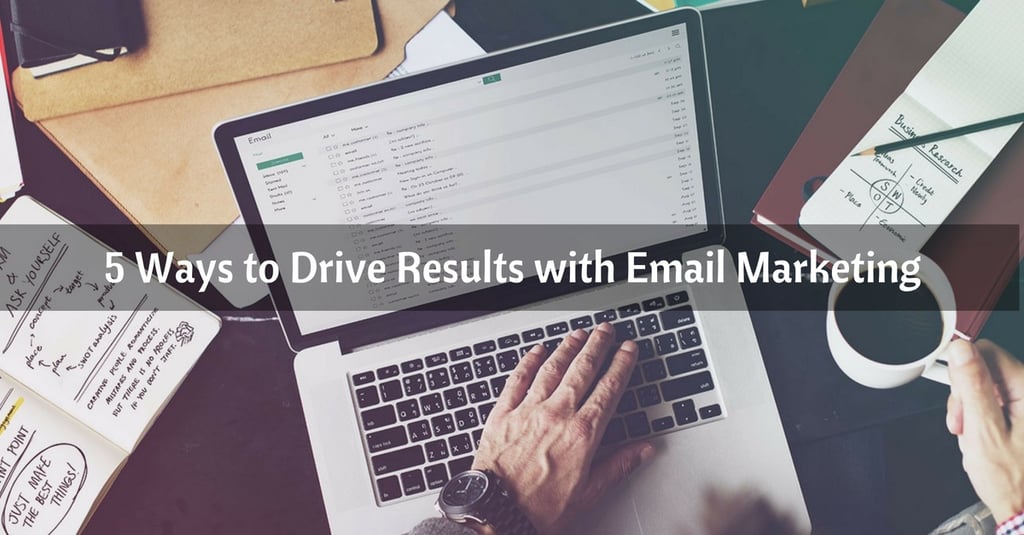 I know what you're thinking…it's 2017 and email is becoming increasingly irrelevant right? Well, not exactly. Marketers are still marveling at the massive ROI their email efforts produce, and continue to generate and nurture leads through the inboxes of their prospects. So how do you get the most out of your email marketing? These 5 tips will generate leads with email and set your campaigns up for success, establishing brand equity and increased value in your customers' minds.
Ready, Set, Grow!
Let's be honest, there are plenty of emails just sitting in your inbox that you have absolutely no intention of opening, nor did you have any intention of receiving in the first place. This begs the question as to why you even got them. Whether you signed up for a newsletter on a late-night boredom binge down one of the infinite rabbit holes of the internet or you accidentally left the "I'd like to receive info on new products" box checked, there's no reason for it to be there. To make sure this doesn't happen to your beautifully crafted emails, you need to get people to look forward to your emails.
Include a lightbox on your website that provides an incentive for visitors to relinquish their email address without even thinking about it. Make it a no brainer and they'll log into their email and wait for you to show up. You can place forms on different pages of your site to reinforce the email sign-up when they feel ready. This will grow your list and make people look forward to getting emails from you. Make your customers feel like you value their decision to give you their personal email address, and they'll be happy to open and click your emails.
Integrated Personalization
Next time you check your email, make a note of how many emails have your name in the subject line. Even though there is a time and place for this, you might realize just how many email marketers do this. Using the recipient's name is a great way to add a touch of personalization to an email, but in the most basic form. Great personalization stems from the recipient's behavior. What pages have they visited on your site? Did they abandon a shopping cart? What did they recently buy from you that could be complemented by another product you offer? These types of personalized emails show that you value their time and interactions with your business and will increase open and click-through rates. Make recommendations and show that you care about their decisions and you'll create a loyal customer.
Thank your subscribers
This can be done in a multitude of ways and at different times. Thank your subscribers right after they subscribe to make them feel welcomed and appreciated. Remember, these thank you emails don't always have to include incentive for further action. Sometimes, a simple thank you goes a long way and people will appreciate it.
On the other hand, nothing says thank you like a free shipping offer or a 20% off coupon code sent directly to them. With thank you emails generating an average 42% open rate (Remarkety) these emails provide marketers with a great opportunity to make recommendations and further drive email conversions. Thank your subscribers for their loyalty, purchases, attending an event, or just because you think they're awesome. Regardless of the occasion, a thank you goes a long way and helps drive positively reinforced engagement with your customers.
Automation
The key aspect to creating great automated email campaigns is moderation. OSS (over-sending syndrome) is the easiest way to get people to unsubscribe or even worse, mark you as spam. Inbound Marketing best practices highlight the importance of understanding where your customers are on their buying journey so that you provide them with the right content at the right time. Even if the content you're sending could be extremely useful for them, if they don't need it now they'll miss it's purpose and skip over your email.
A great way to avoid this is to automate your email campaign on customer behavior. Did they just subscribe to your blog? Send them an email. Did they just make a purchase? Send them an email. Regardless of whatever they did, they initiated the conversation and would understand why their inbox icon is lighting up. Effective automated email campaigns create the sense of a conversation with your customers. They do something, you send them an email in response in hopes they keep the conversation going with clicks, and so on.
Keep it exciting
Email marketing best practices exist for a reason. Basic email elements must be followed to ensure deliverability, avoid spam reports, and a visually appealing email based on the viewing screen. However, sometimes you need to think outside the inbox. Use edgy (but relevant) subject lines that stand apart from the rest of the emails cluttering their inbox. Make subject lines and preview text that compels your audience to open your email. Appeal to their emotions. Create a slight sense of anxiety so they'll be bothered if they don't open it. Creative subject lines and captivating preview text are the way to establishing memorable email campaigns, leaving your customers wanting more.
So no, email is not dead. Effective email campaigns are a great way to generate leads and nurture relationships with your customers. Don't turn it into a point of contact your audience wishes they didn't establish. Be kind to their inbox and provide them with value so they look forward to your next email. If they're eager to get another one, you'll know based on their behavior, and you can continue to bless their inbox with the value they're looking for and deserve.