Car buyers visit just one or two dealerships before making a purchase, but they spend at least 8 hours conducting online research. At the beginning of the process, the majority are open to multiple vehicle options; at the end, most have decided on a car -- and a dealer. Your online presence is the hinge on which that decision swings, and SEO is the key.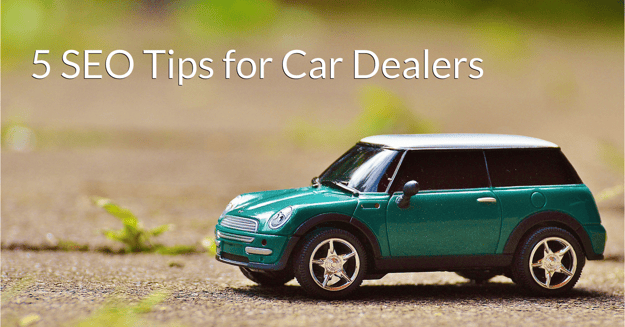 Search engine optimization is the process of increasing visibility in non-paid, or organic, search results. When consumers enter their queries, SEO helps make sure your website is one of the top results. This is critical because the top Google result gets the lion's share of traffic; by the time you get to the bottom of page 1 or onto page 2, it becomes a virtual ghost town.
To boost your search visibility:
Select strategic keywords.

What are potential customers looking for when they turn to Google or other search engines? Think about the products and services you offer to help you narrow down your selections.

Google's Keyword Planner

can help, but an experienced

search engine marketing agency

has the expertise to choose keywords and put them to their best use.
The next step is writing content around these keywords. Don't stuff them in -- Google will penalize you, and website visitors will make a fast U-turn away from your site. Use them naturally in your site copy and your content (e.g. blogs, articles, whitepapers, video descriptions, etc.). Keywords are especially potent in your titles, meta-descriptions, image tags, and sub-headings.
Leverage Google My Business.

This tool enables you to boost your visibility in Google Search and Maps. Your dealership will appear when people are searching for either it specifically or for businesses like it. It is a unique listing that you can use to keep your essential info (e.g. contact details) updated, your content fresh, and your prospects/customers engaged.
As you can see, the highly visible result includes NAP (name, address, phone number), starred reviews, photos, and links to the website and a Map. It is easy for online users to interact with this brand.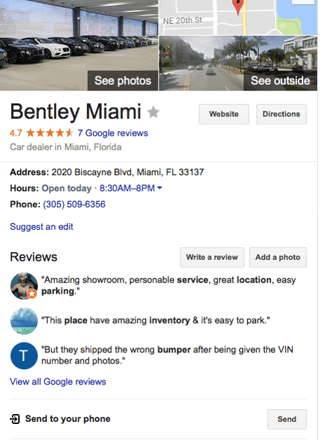 Think Local.

While most consumers web research, the majority prefers to purchase in-person -- and as much as technology had advanced, we can't do a test drive online. As well, nearly half of buyers use multiple devices during their search for the perfect car.
These two facts make local SEO a must. Make sure to optimize with city-specific keywords (e.g. car dealerships in South Florida, where to buy a hybrid in West Palm Beach, etc.), and if you have more than one location, create a unique page for each. Embedding maps and directions and offering "local" specials and incentives are also smart moves.
Request reviews.

As consumers begin their buyer's journey, they trust their peers over brands: reviews have much more of an impact at this point than ads. Leverage the trust in fellow car-shoppers while you build trust with your dealership. And increase your search visibility at the same time.
Ask satisfied customers to leave reviews on key sites, such as Facebook, Yelp, Google My Business, and others. Try sending them a personalized email, thanking them for their purchase. Invite them to leave a review -- and provide them a link so it is that much easier for them. You can choose to incent them if you wish: for example, if they leave a review, they'll receive a free oil change or detailing from your service department.
Monitor your progress.

You can't manage what you don't measure. It's a cliche -- but it's still true! Use analytics programs, like Google Analytics, to track your SEO efforts and ensure they are yielding the ROI you need.
This can be challenging as you have to decide which metrics to measure, how long to let tactics perform before tweaking them, and how to course-correct if your strategy isn't working as well as you'd hoped. Engaging with a firm that specializes in search marketing services can take that particular stress from your shoulders.
An experienced search engine marketing agency can help you optimize your profits and performance by optimizing your web presence. It's time to sell cars the 21st century way!