As companies continue to adapt their marketing to the ever-changing preferences of consumers, their email marketing tactics are often an afterthought. Some even claim that email is a dying marketing channel, but with over 1 billion active users on Gmail, consumers expect personalized and timely emails from the companies they do business with. Regardless of the massive number of email users worldwide, few brands stand apart in their audience's inbox. This post will highlight a few reasons why this might be happening.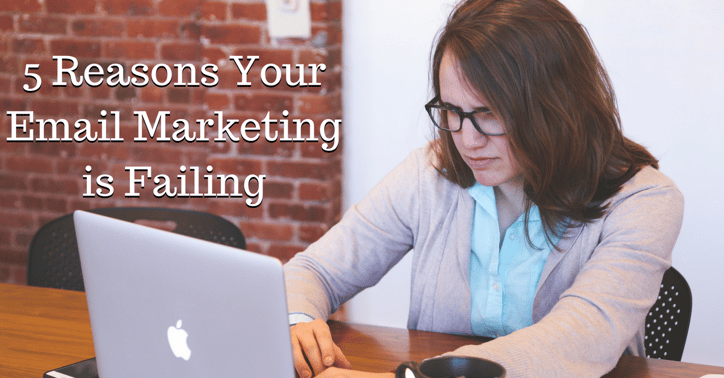 Lack of Strategy
As with other facets of your marketing, you need to have a strategy for your email marketing. Your strategy will set your direction, and give your campaigns purpose.
Each campaign you send should be able to answer, "What type of value does this provide my audience?". When it comes to getting a higher click-through rate, you need to focus on what your audience is looking for.
Aligning what they want with how it helps your business achieve goal will allow you to send emails that will catch people's attention as they scroll through their inbox. You need to catch people in the moment. If your subject line isn't eye-catching or doesn't stand out from the other emails in their inbox, your message will be wasted.
Your Timing is Off
Timing is everything with your emails. While you could Google search "best times to send emails", you need to tailor the times you send to who you're sending to. Best practices are great but your audience is unique. They're not the collective sample of data. Do you own research. Test out your send times to find out where and when they're checking their inbox.
The best thing you can do is set up automated emails that send specific messages based on how your site visitors interact with your content. These messages are not only effective, but they're becoming more and more expected.
Lack of Segmentation
Personalized marketing is a trend that isn't going to fade away anytime soon. Email is the most personalized digital marketing channel and people tune out the newsletter they know 2,000 other people got.
Effective segmentation is crucial to building and maintaining a successful email marketing strategy. The truth is, while you might be extremely interested by what you do, your audience will only be interested if it means something to them. You need to tailor your message so they can relate to it. Speak their language.
Segmenting by customer lifecycle stage can help you nurture your prospective customers to making their decision in your favor. This works for both B2B and B2C industries, they just take different forms. Whether it's an abandoned cart reminder or a follow-up from a recent ebook download, it's a system that allows you to focus on the people who are looking to make a purchase. Some people just need a little more info to get them there.
Meet your customers where they are, not where you want them to be.
Unresponsive Design
Part of meeting them where they are is making your sure you deliver your message on whatever device they choose to check their emails. Two-thirds of emails are read on either smartphones or tablets, and if people can't read your emails easily, they'll move on to the next one.
Most email service providers have responsive templates you can customize to your brand. This way, you can easily communicate your message to your audience regardless of their screen size. If you're coding your emails, then make sure you include an extensive style guide with media queries in the head of your HTML.
Inaccurate Reporting
Tracking the performance of your email campaigns and how they impact the bottom line of your business is an extremely important part of your strategy. If you fail to measure and analyze your campaigns, you won't be able to tell what's working, or if it's even working at all.
Measuring your open rates, click-through rates, and conversions from email is essential to generating revenue for your business. Analyzing these metrics and implementing A/B tests will allow you to continually learn about your audience and make your future campaigns more effective.
Closing Thoughts
To adapt your marketing for 2018, you need to focus on your customers. It needs to be all about them and their situation. If your emails don't have any context, you'll consistently drive low engagement and report a less than optimal ROI.
If you struggle with any of these, consider hiring an email marketing agency. They'll be able to stay on top of email trends, methods, and consumer behavior while you focus on running your business.