Whether you're looking to increase traffic to your site or foot traffic into your store, a strong PPC strategy is a must have in order to position yourself ahead of your competitors. Now that seemingly everybody has a smartphone, people can find information on whatever they want, whenever they want. Finding a local restaurant of your style or the closest boutique shoe store has never been easier, but showing up on the page is half, if not the whole battle. Hiring the right agency to manage your campaigns is of the utmost importance. Here are five reasons to hire a local paid search marketing agency to help you get the results you're looking for.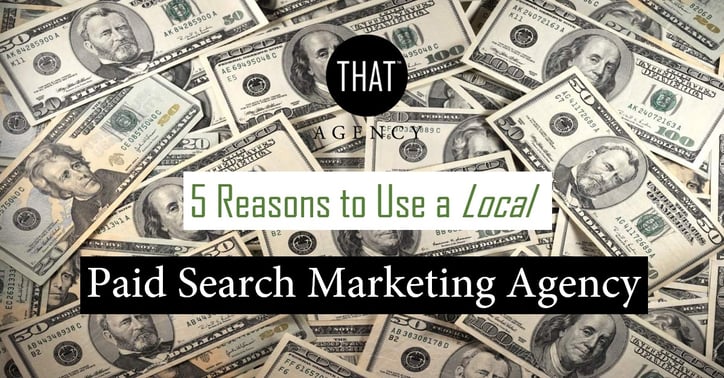 Ease of Communication
There is nothing worse than playing phone tag or waiting days for email responses from something that is impacting your business now! With a national agency that might be located 2 or 3 time zones away, communicating your concerns with the people in charge of your accounts is nothing but a hassle. Utilizing the services of a local paid search marketing agency removes this issue from even coming up. Of course, there might be some delay with meetings and everything, but for the most part, you can call them up or even walk to their office to discuss any issues that arise. This allows for easy and clear communication of goals and expectations from the outset, ensuring that you're on the same page. Not only does this make it easier for you, but it maintains a strong PPC strategy by quickly making changes to the ever fast environment of paid search advertising.
Knowledge of Competitive Environment
With that being said, paid search marketing agencies are used to the competitive environment in the surrounding community because they actively involved in the process. They know what works, and what doesn't, making all the difference in the effectiveness of your paid search strategy. There are no cultural barriers that would exist say if your business was located in New York and your agency was based in Texas. Local paid search marketing agencies know the culture and are used to how people around them interact with businesses allowing them to target your campaign much more effectively.
Success Driven
One of the best benefits of agencies is that they are driven by results. Makes sense right? It's the reason why they're hired in the first place. If an agency doesn't provide results, they won't be in business for long. Check out your local paid search marketing agency's portfolio and see how they've brought success to some of their other clients. Your business is personal to you and that's perfectly fine! You're supposed to love what you do. Agencies are able to look at your business situations without this emotional filter, allowing them to assess problems logically in order manage your PPC strategy in a way that drives results.
Relationship established on Trust
Regardless of whatever your business is, you want it to look good. The way an agency looks good is by providing results that create happy clients. Essentially, when an agency makes your business look good, they look good. This mutually beneficial relationship allows for the open flow of communication and trust that allows you to take your business activities to the next level. A success driven local agency that is focused on helping you achieve your organizational goals in an efficient manner is a recipe for success if you want your business to stand out in your local community.
Typically, less expensive than hiring in-house
So, why don't you just hire someone to do this work internally? I could sit here and list out the pros and cons of hiring agency or in-house for paid search marketing, but for the most part, hiring an agency costs you less money, and who doesn't like saving money? Agencies usually price their paid search advertising services on a percentage of how much you want to spend on your campaign. For instance, if you have $10,000 allocated for paid search in your budget and an agency charges say 15%, you're only spending $1,500 instead of paying the salary of an in-house employee.
A local paid search marketing agency can provide your business with the expertise and knowledge to increase community awareness of your goods or services is essential to becoming a leading local business. Effective paid search campaigns can make your business a star in your local business arena, ensuring that the flow of customers continues and goals are reached. So what are you waiting for? Stop by your friendly neighborhood digital marketing agency on your way home or in between errands to see how they can take your business to THAT next level.