Considering a website redesign? Maybe you need a brand-new site. Regardless of whether you have an established digital presence or not, as a business there's always room for improvement. When deciding on the right web design agency, it all comes down to the questions you ask. It's important to understand exactly what you're investing in, so these 5 overarching questions will help you focus on keeping the investment centered around the goals you want your website to accomplish for your business.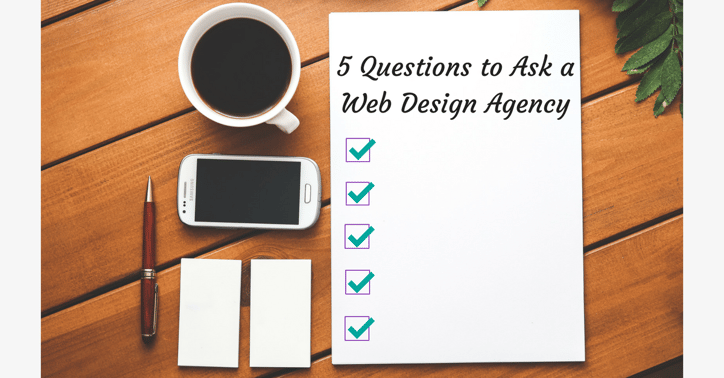 What services do they offer?
This should always be the first question you ask a web design agency. As a business, your website's purpose is to bring in more revenue. The reason why this is the first question is to save you time. The web design process is long enough, and by focusing on agencies that can help you reach your goal will streamline your decision process.
Many agencies offer a wide variety of digital marketing services in addition to their design services. This could mean incorporating a solid seo strategy into the design process to increase your organic traffic. Ask them to perform a site audit to identify and further opportunities for improvement.
What's their pricing structure?
Once you know an agency offers the services you're looking for, the next step is making sure it's within reach. Making the second question about price is important because it will allow you to see what value their services add. Do they offer suggested packages of their marketing, design, and development services? Ask about payment schedule as well. It's best to get these questions answered from the start to make sure you and the agency are on the same page.
It's important to remember that a website is not just something you buy and set loose and hope it performs. It's your biggest digital investment. Understanding the difference between price and cost is essential when deciding on an agency.
Shifting the focus towards cost instead of price allows you to focus on value. Your website is often where you make a first impression on customers. If your investment doesn't return a well performing site it could cost you much more than the price of their services.
How do they measure performance?
Now that you understand the value they're proposing for your site, how do they make sure you get what you pay for? Do they look at bounce rates? Conversion rates? Total traffic volume? The measure of success will vary from project to project, so it's important to align key performance indicators around the goal you're trying to reach with your website.
Ask how they've measured the success for their past clients and how they helped them reach their goals. Check out their portfolio to get a feel of the brands they've worked with in the past. If they're providing ongoing support and marketing once the site is complete, how will you keep them accountable for agreed upon deliverables?
What's their process?
Now that you know they have a system in place to deliver valuable services, it's time to explore that system. How do they manage the entire web design process? Is it efficient? How will they transfer that efficiency into your site's functionality? Make sure there is a thorough strategy session in the beginning so you can align design and functionality with the overall goals you need to achieve.
If you're looking for a website redesign, will they look at your current site and analyze it's performance? How will the new design affect your brand? Do they outsource for anything or do they have a specified team to handle it? These are all things an agency will be open to discussing, and will allow you both to get on the same page.
Make sure you easily fit into this process, and make sure you establish the relationship on open communication. Things come up, and you might need to make an unexpected change. Even if it's just to check up on how everything's going, it's important to know the best times and methods to touch base.
Who will be your main point of contact?
The last thing you want is to be given the run-around. It's important to understand who the best person to get in touch with at any stage of the web design process. This is important to note if the agency has different team members assigned different tasks.
For instance, if one team member is responsible for design and another is responsible for development, your main point of contact might be different depending on how far along the project is. Many agencies will allocate the account or project manager be the designated point of contact. This way, you can speak to someone who knows how far along the process is, and challenges or issues they've come across, as well as any opportunities for a better site.
Once you've answered these 5 main questions, you'll know what to expect when working with them. Having these questions planned out when you reach out to a web design agency is a great way to be prepared, save time, and will make sure you choose the right agency for your business. Another great way to make sure you ask the right questions is to brush up on the latest web design trends. This will help you see how modern your website could turn out, and ensure that you won't need a redesign in a short period of time.