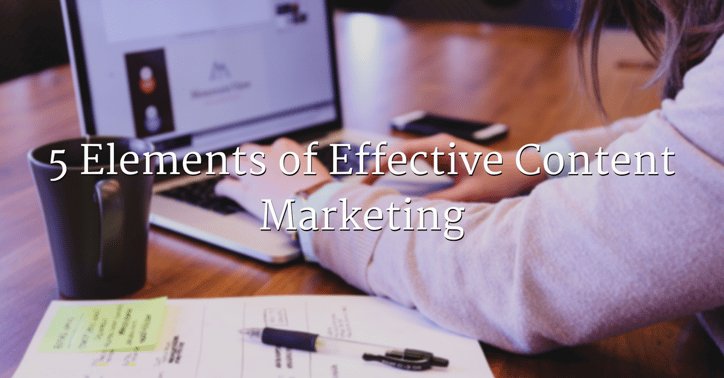 Hold on: we're about to lay some stats on you.
350,000. Tweets sent each minute.
400. Hours of video uploaded to YouTube every minute.
80,000,000. Images posted to Instagram every day
5. New Facebook profiles created each second.
4,750,000,000. Pieces of content shared on Facebook daily.
1000. Maybe, maybe, in 1000 lifetimes, you could make a small dent in this vast amount of content. But only if you lived and breathed content every minute, every hour, every day.


As these statistics demonstrate, we're drowning in content. There is an unfathomable amount of "stuff" out there. Herein lies the bad news: this can make it more difficult for people to find your content.
And herein lies the good news: a lot of the content out there is not relevant, not educational, not informative, not interesting -- and not worth the time it takes to load a webpage. That means that when you implement an effective content marketing strategy, your content stands out and has real impact.
An effective strategy is:
Intentional
Content is not a silo; it has to be intertwined with the rest of your business functions, particularly sales. Talk to your teams: ask them about the needs, wants, objections, and questions that prospects, leads, and customers regularly pose. Take it back even further: ask them who their customers are. Are they parents? Singles? Millennials? Retirees? Families? Work up detailed buyer personas to guide your strategy.
Use these insights to develop content that reaches customers and helps them achieve their goals. The worst way to proceed is by creating content for the sake of content. If it's not intentional, any successes are purely accidental. And entirely unsustainable.
Comfortable
Think about how you learn best. Is it through listening? Through images? Through written materials? People learn in a variety of ways; cater to them by offering a mix of content types. This need not be a significant added expense.
For example, say one of your team members is a subject matter expert with valuable knowledge to share with your target audience. You can interview her and create a podcast or video, ask her to do a webinar, capture her thoughts in a quick blog post, develop a "how-to," expand on them for an article or whitepaper, create an infographic based on her knowledge, do a social media Q&A… or all of the above.
You have the material; leverage it in several different ways to maximize its reach and impact. You'll reach audiences how they want to be reached, and you'll make the most of your marketing spend.
Accessible
Content shouldn't live solely on your website -- though that's a great place to start. (Be sure to position social sharing buttons near content to facilitate easy and quick sharing.)
Utilize your content more fully by linking to it via social media platforms. Short, concise, and compelling posts and tweets are ideal for capturing your audience's attention and bringing them into your site.
Also consider paid media opportunities. For example, placing ads through Facebook, LinkedIn, Twitter, Instagram, Google AdWords, etc., can increase your reach and put your content in front of interested eyes. Further, several of these platforms enable you to zero in on your audience by targeting geographic location, age, gender, interests, behaviors, and other factors.
Consistent
Many brands embark on their content marketing strategy with great zeal -- and then, efforts peter out. Other brands produce excellent pieces one week, and then post fluff the next. Consistency is essential, both in terms of frequency and quality. Remember, each piece needs to add value to your audience. It needs to teach, entertain, guide, support… if it doesn't, go back to the drawing board. You have a lot of knowledge to share; the key is capturing your ideas and translating them into quality blog posts, articles, whitepapers, videos, etc.
Your agency can help you develop solid content marketing ideas so you maintain your zeal and deliver exceptional value to your audience -- every time.
Measurable
This ties back to intentionality. At the onset of your content marketing strategy, you must understand your audience and their needs -- and you need to put metrics in place (e.g. page views, unique visitors, average time on page, form completion, email clicks, email opens, pages per visit, bounce rate, follower count, social shares and likes, etc.) to see if you're hitting your objectives.
Analytics platforms (e.g. Google Analytics) tell you how specific pieces of content are performing and how your audience is responding, even down to the individual. You can dig in and determine what's working and what needs to be changed.
The amount of content available to today's consumers is staggering. Make sure yours rises to the top with a solid, adaptable content marketing strategy.