Leveraging the potency of Google's advertising service, AdWords, can help you reach more customers - and realize more value from them. As with any entity in the fast-paced search world, AdWords is continually - and rapidly - changing. Staying abreast of new innovations will help you utilize this tool for optimal results. Here's what you need to know, straight from top digital marketing agency experts.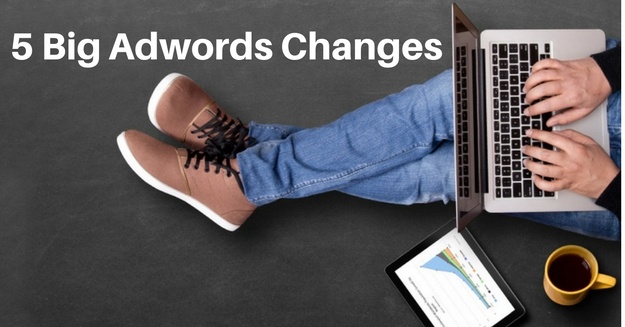 A (Very Quick) Introduction to AdWords
Google is a global powerhouse, and the vast majority (about 97%) of its revenue comes from advertising. The scope and power of the Google Search Network is nothing short of astonishing:
Over 1.2 million businesses advertise on the Google Search Network.

The average CTR is four times that of banner ads and 10 times that of Facebook ads.

Consumers are 155% more likely to search for brand or related terms after exposure to a display ad.

Google display ads reach 80% of internet users - all over the world.

For every $1 businesses spend on AdWords, they realize an average of $2 in revenue.
AdWords empowers you to reach the right people at the right time, whether they are across your city or across the world. You can use search ads, display ads, video ads, and/or app ads to connect with searchers who are interested in the solutions you have to offer.
Changes You Need to Know About
Google continually tweaks its service offerings to deliver the most relevant, positive experience for its users. The AdWords team is rolling out five major changes to this program. Even if you are working with a digital marketing agency, it is helpful to understand AdWords so you can achieve the results you want for your business. With that in mind, let's take a look.
Mobile Bidding
We purposely started with the most confusing part of AdWords - bidding! We'll get it out of the way, and give you more confidence at the same time. Currently, Google opens an auction every time it has ad space available (e.g. on a blog or search result). This will decide which ad shows in that space at that time. Your bid lets you in on the action - and the auction. Now, previously, you set your desktop bid and then a mobile bid as a "multiplier." This meant that your desktop and mobile were interconnected and dependent on one another.
Google recognized that this needed to change because mobile search is surging - and
desktop and mobile users tend to search for different terms. Google now allows advertisers to set desktop, mobile, and tablet bids separately.
What does this mean? More freedom and flexibility, as well as the ability to use your budget most advantageously given your audience.
Responsive Display Ads
The task of creating ads to fit a variety of formats is onerous. This ad needs to be square for this site, but it needs to be skyscraper for that app. It can get cumbersome, and expensive. Google will change that with Responsive Display Ads. You provide them with your URL, headline, description, and image. In return, Google creates an ad that will utilize the optimal format given where it will be served.
AdWords in the "Real" World
Online ads can help you drive web traffic - but they also put interested people into physical businesses. How much traffic is AdWords driving to your location? Google will help you determine this. The search engine tracks people who searched and clicked on your ad. It can then determine if they visited your business using phone location history. Tracking in-store conversions can help you get a better, more complete, sense of your ROI.
Local Search Ads on Google Maps
Google is taking local search ads to the next level. Soon, these ads will appear in Maps (including mobile), along with brand logos and offers. They will be right on the map - not beside it. Google will look at signals, including personal browsing history, time of day, interests, behaviors, etc., in addition to queries, to determine which ads to display. This does make targeting a bit more complex, but your digital marketing agency can help you find the right strategy.
Expanded Text Ads
Google is expanding the amount of text you can leverage in ads. From one headline of 25 characters to two 30-character headlines, this change can help you boost CTR. Why? You'll have more space with which to entice and engage searchers. Google says that in addition to increasing CTR, the expanded ads should result in better traffic.
You will also notice that you can write an 80-character description, rather than two 35-character descriptions. By crafting this description carefully, you can make your case to searchers more compelling.
To compete in an ultra-competitive environment, you need a comprehensive advertising strategy that includes organic and paid options. AdWords can be a powerful tool. To learn how to use it efficiently and effectively, work with top search engine optimization experts in Palm Beach. This is an investment in your brand that will yield significant results.