What's buzzy in the world of plastic surgery marketing? In 2018, it's all about creating, revamping, or revitalizing your online presence to establish your expertise, engage current and prospective patients, and increase your practice's profitability. Five tips to help: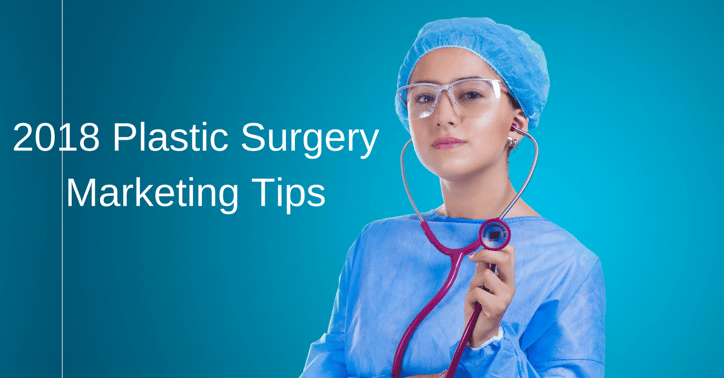 Augment Your Website
Your website is essentially the "face" of your brand. It needs to capture people's attention immediately, inviting them to get to know you further. Be sure to clearly articulate your value proposition — the services, innovations, techniques, etc. that both appeal to patients and differentiate your brand.

Your website should be clean, simple, intuitive, easily navigable, informative, and patient-focused. And don't forget: it also needs to be mobile. Local searchers depend heavily on mobile devices to research, contact surgeons, and to book appointments.
Get a Face(Book) Lift
In his study, Worth the "Likes"? The Use of Facebook Among Plastic Surgeons and Its Perceived Impact JB Chang found that 77% of surgeons say the platform empowered them to interact with patients, and 67% said it increased practice exposure.

An effective Facebook profile is engaging with conversational language and valuable, informative posts. Offer a mix of content, not just promotions and deals. About 20% of your posts should be promotional in nature. The rest? Great content: provide links to both owned and curated pieces; post videos, images, and clear calls to action; ask questions and respond to answers.
Remember, Facebook is about engaging with people; it is patient-focused, not self-focused. And don't forget to track your progress; monitor metrics like website traffic from Facebook, new referrals, and conversion rates.
Consider launching a Facebook Ad campaign; you can limit these to specific people (e.g. those who have visited your website) or reach new people who share key characteristics (e.g. age, gender, income, browsing habits, etc.). Facebook allows you to zero in on your targets for maximum effect. For instance, if you ran a video, you could display an ad for those who watched at least 75% of it. You know they're interested and may be ready for the next step towards conversion.
Non-Invasive Procedures to Convert Leads
The plastic surgery "buyer's" journey isn't linear. They don't typically decide they want a procedure, find a provider, and then book an appointment. They think they may want a procedure. They search around for information. They look into surgeons. They talk to their friends. They think about it. They research some more. They think so more. And then, they take action. At this point, they're more apt to go with a practitioner with whom they have already interacted.
When someone visits your website to look for information, a cookie is added to their browser. This bit of code enables you to display ads to them on Facebook, search, or other platforms. This is called "retargeting." Prospects may convert from there. If not, the ad acts as an invaluable touchpoint. When they are ready to make a decision, they will search for you by name because they are familiar with your brand.
Aesthetic Inspiration
Images are an integral part of your plastic surgery marketing efforts. While the reason behind surgery is not always cosmetic, many patients are looking for a "new" look, whether it is augmented breasts or buttocks, younger looking skin, or a tighter tummy. Images can be aspirational, particularly before and after photos.

But don't forget another type of image: the infographic. This is a visual method for presenting information. It appeals to web readers who are turned off by long blocks of text or who just appreciate an alternative method to consume content.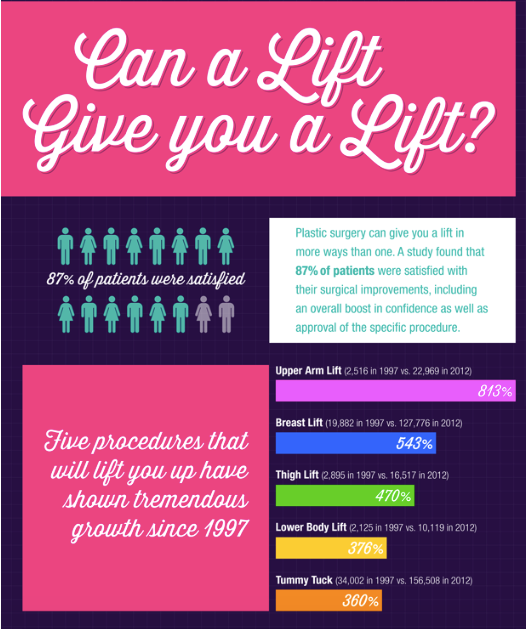 Infographic from the American Society for Aesthetic Plastic Surgery
Schedule a Consult
Your focus is on providing the best results to patients while generating new leads. Consulting with a firm that specializes in the intricacies of digital plastic surgery marketing will help you achieve the best outcomes for your business. They can help you determine and clarify your goals, develop strategies, launch campaigns, and monitor your progress — freeing you to get to work!

Just as plastic surgery techniques have evolved and advanced over the years, so too has the methods for marketing your services and solutions. Learn how to amp up your results and grow your practice.